Winkworth managers key to office success
Incoming franchisees don't always want to have a day-to-day involvement in the running of a Winkworth office. In these circumstances, buyers often bring in new talented individuals to manage the offices for them, and it's a testament to these managers that most of the resales see a sharp increase in revenue from day one.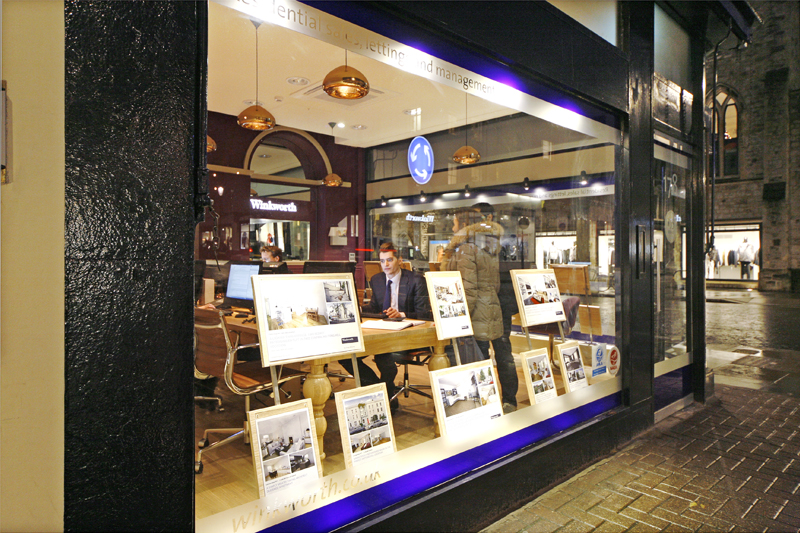 Winkworth has seen an influx in talented, hungry millennials joining the network over the last few years as managers. Although the market has been strained due to ongoing political and economic uncertainty, it's been their sheer drive and determination that has increased revenue and market share in the areas they operate in.
Charlie Mitchell runs Winkworth Tooting and was brought on board when the new franchisee purchased the office in January 2018. While Charlie has been at the helm of the business, Winkworth Tooting has seen an increase in revenue of 87% in 2018 vs 2017. "The opportunity to run an office exactly how I wanted to and not be dictated by a large corporate company was the reason I joined Winkworth," Charlie explains. "The brand is very honest and respected, and I love being able to dictate my own terms and work in my client's best interest at all times." Charlie began by restructuring the staffing in the office, changing providers to get more value for money and launching a huge marketing campaign to promote Winkworth Tooting. "The biggest challenge we faced was the large multi chain corporates offering very low fees," Charlie explains. "We managed to combat this by showcasing and proving the high level of service that we could provide our clients and continue to do so."
The Winkworth franchisees who bring in fresh talent in terms of new, motivated managers, often see their offices turn around at a much quicker pace than usual.
Ian Fraser is currently franchisee of Winkworth Shoreditch, Highbury, Islington and Hackney. He purchased the Hackney office on Christmas eve in 2016 and employed Saylan Lucas as manager to run the business. Under Saylan's leadership, the office has seen a remarkable 90% revenue increase in sales and lettings combined in just 24 months. "Having worked at an independent for many years previously, the associated strengths of a franchise with such a huge brand name were very appealing to me," comments Saylan.
"I put key systems and working practices in place from day one, which set us a cut above the local competition. I would hope that Winkworth Hackney's performance over the last two years is a good indicator for any future ventures."
Some of Winkworth's franchisees who aren't involved in the daily running of their offices, give autonomy to their trusted managers to run their businesses as they see fit. Providing this opportunity to certain managers motivates them to work harder, and this is proven by the results that Winkworth have seen over the years.
The Winkworth Fulham and Parsons Green offices were sold to a new franchisee in 2016 and sales manager Faith Cook was hired. Under her watchful eye, the businesses revenue increased by 36% in the first 12 months of trading, 22% in year two and a further 10% in year three. "I have always known Winkworth to be a well-respected brand with good morals and quality people. I had toyed with the idea of working for another corporate, but find that with Winkworth, as it is a franchised business, we are given free rein to run our offices as we see fit. At Winkworth I was able to take on more responsibility than I otherwise would have done if I'd had to stick to the rigid processes of a corporate business. This means that we can adapt to changes in market conditions without any problems which is important and focus on what matters most – the clients."
Many other Winkworth offices that have been resold in the network are now flourishing under new management and seeing revenue increases. For example, Winkworth Paddington has seen a 123% rise since 2015, Winkworth New Cross' revenue has risen 57% since it's sale in 2016 and Ladbroke Grove saw a 37% increase in 2018 vs 2017.
These managers are the future of the brand and the new franchising team look to support these talented individuals into becoming franchisees themselves. Four out of the top five fastest growing offices in Winkworth's network in 2018 were managed by new operators joining the business.
"Winkworth is a great, well established brand which has a huge amount of intrinsic value," comments Saylan. "I think therefore the clear goal and natural progression for me would be to open my own franchise. My team and I have worked really hard to dramatically change the fortunes of the Hackney office these last two years, it hopefully bodes well for future endeavours."
"It takes hard work, coupled with franchisor support to see the results that we have seen over the last few years," explains Faith, "I'm excited to continue to grow revenue in Fulham, be number one in the area, and become a franchisee myself."
Winkworth are constantly on the lookout for talented and driven individuals to join the network. They offer fantastic career progression from equity shares to owning a Winkworth office. If you would like to learn more about the long-term opportunities Winkworth offer, get in touch with the new franchising team today.