Agent Spotlight: Lisa Jacobs - Covid-19 special
As we navigate and adapt through these challenging times, it is clear that for the whole nation, the coronavirus pandemic has been unsettling and in some cases devastating. Financial implications are significant and with many people still wishing to buy, sell, rent or let, we wanted to answer those all important questions. Following our latest blog on the Covid-19 FAQs: What this means for you as seller, we spoke to Lisa Jacobs from Winkworth Devizes, for her advice and for the lowdown on her office's personal experiences..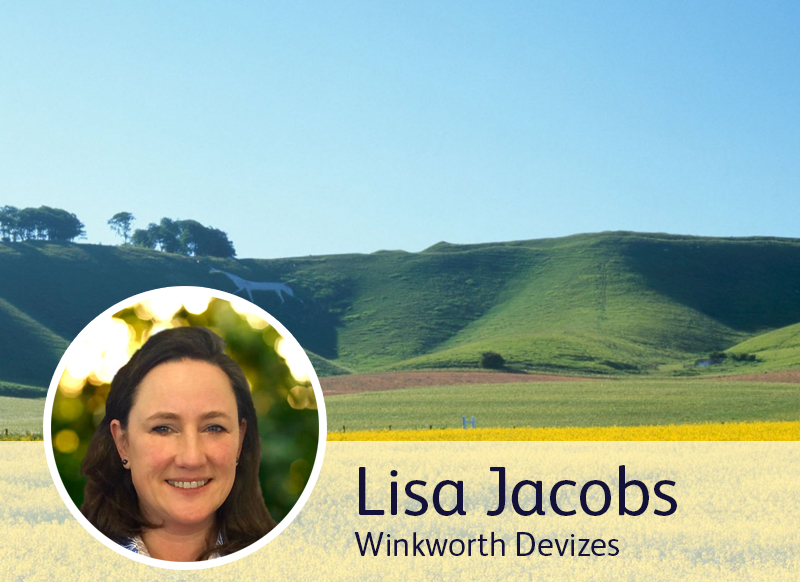 So, what does it really mean to buy or sell a home at the moment?
It is more difficult but absolutely possible. It is all about doing what you can in these circumstances, and having to adapt. We can't do viewings in the normal way because of the Guidelines so we have to be inventive. Videos are a good way to maintain interest from any applicants and we are using this where vendors are happy to provide these. We are also now offering video valuations to determine the value of your home, even if we can't get inside. We have put in new structures and systems so we can still operate, and are here to support and advise as best we can.
Social Media is also crucial at the moment – so many people are now using this to communicate and the traffic has increased hugely, so taking advantage of that has become very important. Really making sure content is interesting and helpful and using the 'enquiries invited' line to encourage interested applicants to contact us despite the lockdown.
Can I still buy a house during this lockdown?
Yes, theoretically you can – you may have seen and viewed a property before the lockdown in which case you can put offers forward and we can get you into conveyancing once an offer is accepted. The solicitors are all still working and moving things forward. If you haven't already viewed, then you will be relying on video tours and we would not advise buying a house if you haven't seen it in real life. That said, you can put notes of interest in with us, or indeed offer subject to seeing the property physically – this would agree the price but conveyancing would not happen until a physical inspection had taken place.
What is happening to those who are already in a chain? Are these falling through?
We have lost a couple, largely due to buyers' changing financial circumstances, but at the moment, most have remained together and are simply on pause until exchanges and completions can happen.
How do I complete/exchange during the lockdown?
The only way you can do this at the moment is if the property you are buying is empty and a simultaneous exchange and completion can happen. The other factor of course is if your removal company is willing to move you – most are if the property is empty and they can avoid social contact, but they won't allow you to be in the house as they deliver. Where exchange occurred prior to the lockdown completions can happen if the above circumstances are true – we have one completing on the 17th April which exchanged prior to lockdown. Their onward house is currently empty and the removal company has agreed to move them.
Can I still sell my house during the Coronavirus outbreak? How do I do it?
As above for buying a house – if applicants have previously viewed your property and come back and make an offer, then yes, we can get a deal agreed for you and get you into conveyancing. Exchange and completion is unlikely to happen until the lockdown is lifted, but we can certainly get you to point of exchange ready to go as soon as we are able. If you haven't had pre-lockdown viewings, then your house is unlikely to sell until the lockdown is lifted, but there is a lot we can do to market your property and generate interest which we can then act upon once restrictions are lifted.
What is the best advice you would give to a buyer/ seller / landlord / tenant right now?
Buyer – keep looking on Rightmove and register interest in any properties you like the look of. Ring the agent and talk to them about the property and get as much detail as you can from them. Request a video if available. Put a note of interest in with the agent and ask them to contact you as soon as viewings are permitted.

Seller – There are a lot of people at home at the moment with more time and who are therefore surfing Rightmove. Rightmove has reported significant increases in activity on their site so sellers can take advantage of this. Ask your agent what they are doing on social media too – again a very important tool in this current situation and one which your agent should be maximising on your behalf to generate interest. Ask your agent how they are dealing with enquiries and how these will be handled once the restrictions are lifted.

Landlord – This is a worrying time if you are dependant on rents coming in to pay mortgages and bills. Speak to your lender and start a dialogue with them so you understand the position should your tenants get into difficulties paying the rent. Ask them if you can have a mortgage holiday should your tenant get into arrears. Speak to your agent and make sure they are fully aware of your financial situation so that they can handle any enquiries from your tenant appropriately.
Tenant – It is crucial that tenants communicate with landlords early if they feel they are going to struggle to meet rents. The more time we have to put in place special arrangements the better. Most landlords are sympathetic and understand and if you have been a good tenant they will want to work with you so that the relationship can continue after the lockdown is lifted. Seek advice from Citizens Advice if you are worried, look at the Government website and understand the new guidelines which have been put in place, and investigate the options with Universal Credit to see if you are eligible for help with rental payments. Do all you can to maintain your payments as any arrears remain payable and will put pressure on further down the line if they remain unpaid. Landlords can't evict for the next three months, but if they feel that you haven't done all you can, they will be able to evict at a later date, so it's crucial that you communicate and explore all options.
What does this mean for house prices moving forward?
Who knows!! That is the big question. There will also be plenty of people who decide that bricks and mortar are a better investment than the stock market at the moment which may help to maintain prices. All this remains to be seen and needless to say we will be keeping a very close eye on things. Whatever happens, we believe there will be a readjustment of the market and a period of uncertainty as it finds its level again.
If you are a seller and you get a good offer at the moment, our advice is take it – assuming your buyer passes due diligence checks on affordability and proof of funds etc.
What does all of this actually mean for the housing market?
As stated above, the housing market will inevitably go through a period of adjustment as the new financial landscape reveals itself. So much will depend on how long the lockdown continues for. How much of an adjustment is impossible to say at the moment, but at the end of the day, when you go to the market with your house you are selling in that current market and that's what you have to deal with. As agents it's our job to get you the best possible price and sellers will need to be pragmatic about what's on offer from buyers and make a decision as to whether they really want to sell or not. We suspect lots of sellers will sit on their hands for a bit to see what the market is doing and this may lead to a lack of stock generally – if you really need to sell and get on, this may play into your hands as buyers struggle to find properties.
Contact your local office