Video Appraisals
We're here... to keep Reading moving
If spending more time indoors has got you thinking about your next move, why not book a free no obligation appraisal via video call.
Bringing our well established Winkworth brand to one of the south east's largest towns.
Located just 36 miles from Central London and 24 miles from Oxford, Reading's geographical placement is perfect for living and working or commuting. James and Michael are established professionals who have years of combined experience and local knowledge and can offer you a friendly approach and unparalleled service.
Reading office reviews:
Outstanding service from Robin Miles and all the Winkworth team
"All of the Winkworth staff with whom we had contact were invariably friendly, helpful and efficient, but Robin Miles, our assigned agent, was absolutely first class. Throughout the four month period of our sale, he was personally involved in the process, driving it constantly and energetically. Although we were aware that he was busily involved in many other transactions, it felt to us as if we were his only clients. Ours was a complicated deal but he kept in close communication with us by email and phone, several times a day during the most intense phases, helping us to feel supported and alleviating the stresses of the situation. In our more than 40 years experience of buying and selling houses through estate agents, he is easily the best, most personally involved, and effective agent we have ever worked with and we would would strongly recommend him . We are very grateful to him and to all his colleagues at Winkworth."
By

Alan Long
on 12/10/2021
Very responsive team
"I came across Winkworth as a buyer and I had a really positive experience. We met Robin when we visited the property the first time and he was our main point of contact for any communications throughout the process. He was super responsive with our questions and really a pleasure to interact with. The hamper pack when we got the keys was very thoughtful too. We are very impressed with the whole Winkworth team and would highly recommend them."
By

Adriana
on 11/10/2021
Excellent Service
"Both of the ladies I spoke to on the way of booking a flat, were excellent and very helpful. They walked me through all the steps towards completing my booking and also were very responsive in my queries. 100% suggesting the agency to my friends."
By

Panagiotis Georgiou
on 23/9/2021
Superb service
"We bought our new home via Robin Miles at Winkworth in Reading. We have dealt with many estate agents before but Robin is simply the best! Robin was absolutely fantastic from beginning to end: he was always straightforward to deal with (no sales talk or waffle, just honesty); super responsive; always friendly; and he would always chase people whenever things were slowing down. Thanks to his professionalism we always felt like we were in safe hands. Robin is an asset to Winkworth, and if we ever sell our new house Robin will be the first and only person we will call."
By

Patrick
on 21/9/2021
"The team were really helpful in answering all my questions during the viewing and thereafter. I was moving from London to Reading so had to make sure this was the right location and flat for me and they were quite understanding of this. I would definitely recommend them to anyone looking to find a place in the area."
By

Emelda
on 7/9/2021
"Jessica was professional, responsive and helpful. Other staff members that I spoke to when calling in were equally as helpful. Overall the process has been smooth and mostly stress free"
By

Chloe Piquenot
on 25/8/2021
Great Agents!!
"Such a great experience sorting out our rental through Winkworth. We moved 100 miles into the property with two children and couldn't be happier with the experience we had, it was made far easier with the support and advice given. Winkworth continue to support you well once in the property and provide contacts within the company during your tenancy if you need them. I would highly recommend!"
By

Craig
on 23/8/2021
Good experience
"All interactions have been friendly and professional, questions answered promptly. Would recommend."
By

Tim Smith
on 9/8/2021
Excellent service.
"I called and emailed several agents in Reading, trying to find an apartment for a colleague from HK studying in the area. Billy has the only one who took this enquiry seriously and the only one who made a real effort to help. His prompt response was key to securing the property. He was extremely helpful and a pleasure to deal with."
By

Lisa Hope
on 28/7/2021
Letting our house
"When I first called to ask for the house I was interested to rent, I talked to an agent named Billy Liquorish. The way his questioning and giving information made me very disappointed. He said we can't even see the house if we do not confirm this and that, he was bossy and unpleasant, at least made me feel that way. But my second contact on the same day was James Hathaway who was perfect with every detail. He and the team helped me even with the things they didn't have to. My biggest thanks to James, Charlotte and Russell. They have been star for me during the renting period, because I was under too much stress, and might have pushed too much on some details. And thank you guys for bearing with me and helping a lot. Everything went very smooth and they met all the dates and so they confirmed with me. Thanks again for everything."
By

Esra Ogur
on 12/7/2021
Opening Hours
Mon-Fri

9am to 6pm

Sat

9am to 4pm

Sun

Closed
Selling or letting your home?
Have a property to sell or let in or around the Reading area? We'll happily provide you with a valuation.
Request Valuation
Featured Reading Properties
A few of our current favourites in and around the Reading Area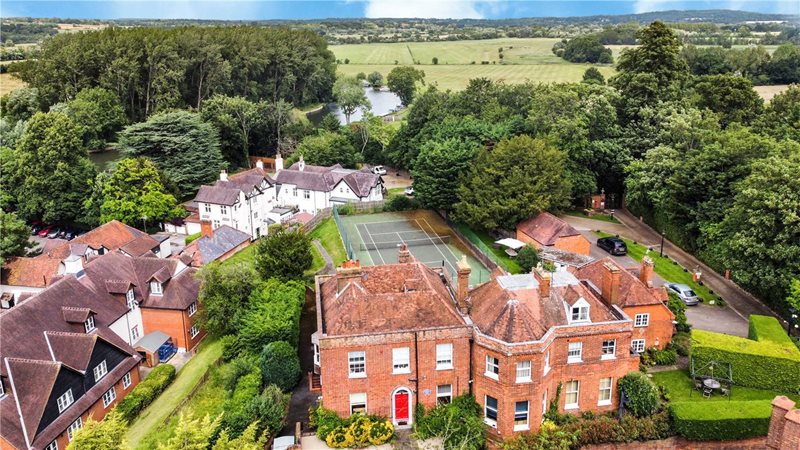 Thames Street, Sonning, Reading, RG4
Guide Price £1,750,000 Freehold
Westfield Road, Caversham, Reading, RG4
Guide Price £1,700,000 Freehold
Manor House Apartments, Thames Street, Sonning, RG4
Offers in excess of £1,250,000 Freehold
Find More Properties in Reading:
Myself and Michael have over 40 years' experience of the property market, I'm confident that we have the best knowledge of the area and now with the arrival of Cross Rail the Winkworth Brand was a perfect fit. We are all committed to providing the best possible service to all our clients.
James Hathaway
Director
Meet the team
Located just 36 miles from Central London and 24 miles from Oxford, Reading's geographical placement is perfect for living and working or commuting. Michael and James are established professionals who have years of combined experience and local knowledge and can offer you a friendly approach and unparalleled service.
New Homes London

New Homes London

Winkworth New Homes London is a leading sales agent of newly built residential property across the Capital.

Buyers guide

Exciting times, buying a property. There's a lot to think about though.

Country House Department

At Winkworth we understand a house in the country is more than just bricks and mortar.