Winkworth Hellesdon Estate Agents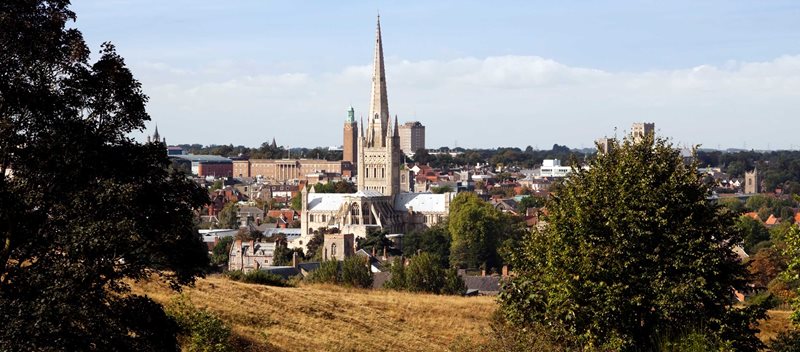 Your local independent experts with the support of a national network.
At Winkworth Hellesdon Estate Agents, we understand that everyone's move has a different story to tell and that not one service will fit all. This is why we create a bespoke marketing strategy that is truly unique to you. We are a very special agency for a very special area. If you are thinking of buying, selling, letting or renting, then you can be sure that our incredibly committed and experienced team, based in the heart of Hellesdon are here every step of the way. Please come and talk to us about your property requirements, and get to know the team from the Winkworth Estate Agents in Hellesdon.
Sales
Lettings
Winkworth Hellesdon 185a Reepham Road Hellesdon Norwich NR6 5NZ
Opening Hours Mon - Fri 8.30am to 6.00pm Sat 9.00 to 4.00pm Sun By Appt only
Hellesdon office reviews:

Rating
"After seeing many excellent reviews from local residents who were extremely satisfied with the excellent service they had received from Winkworth, we decided to use them to sell a property. We couldn't fault them. All staff have been extremely efficient, helpful and diligent leading to a very effective sale. We highly recommend them for their local knowledge, efficiency and professionalism."

Lindsay Parfitt

on 31/7/2022

"Very professional company. First contact was with Andy for a valuation, He came across very professional but also very friendly and approachable. For the selling stage we dealt with Max who again was very professional but friendly and approachable and answered any queries we had. After the acceptance of offer we was then passed to Rachel who dealt with all the communication regarding our sale again Rachel was very professional, approachable and friendly. Any queries we had she dealt with straight away. If you are thinking of selling your property Winkworth in Hellesdon is the team you want. 5 star service all the way."

Sue Halsey

on 15/7/2022

"So happy with the friendly service from Winkworth at Hellesdon, from Andy who we met initially for the valuation and a special mention for Max and Rachel, who both provided us with excellent service. Very happy to recommend Winkworth Estate Agents."

Susan Sully

on 23/6/2022

"Had an amazing viewing with Daryl who had all the information and was incredibly welcoming. Everything went to plan and after my experience with several estate agents around the area I'd recommend Daryl most"

Luke Sutherland

on 19/6/2022

"We had such a great experience with Winkworth. Max was especially helpful when going through the process of offers etc. The rest of the team have been great throughout and will definitely be using Winkworth again in the future."

Hannah Chapman

on 26/5/2022

"Awesome agent, truly awesome. Very economical, but they really delivered an impeccable listing with professional photos well sequenced and did everything they said they would and more. Andy who took the photos had taken a professional photography course off his own back so he could do an awesome job. Neil walked us through the sale of our house clearly, evidently did an excellent job of our open house given the offers we secured within 24 hours, and he also negotiated some tricky territory with a house we were going to buy but fell through. He also remained professional and compassionate with us, even though it could easily be seen as our fault and a little bit of a naive situation. Max was professional and always up to date with our file in the office, knew who we were instantly every time we called up and gave us an update of anything new had come in. Hannah and Kylee chased solicitors voraciously and updated us minimum once a week for the entire process tirelessly - those calls were super efficient and professional and didn't take much of my time so i was always happy to take their calls. In the end it was a tight push due to our vendors waiting for their new build, but the whole thing carried through and we completed successfully so a big thank you to everyone at Winkworth."

James Goodhew

on 29/4/2022
Meet the team
Our team are here to support and advise our customers when they need it most. We understand that buying, selling, letting or renting can be daunting and often emotionally meaningful. We are there, when it matters, to make the journey as stress-free as possible.
See all team members
Got a question about Hellesdon?
Available Properties in Hellesdon
A few of our current favourites in and around Norfolk
Online Valuations
Aren't Worth The Paper They're Printed On.
When online valuations don't give you the whole picture - try Winkworth's expert service
Book your free video appraisal
Why Move to Hellesdon?
Located just 4 miles North West of Norwich's fine city centre Hellesdon offers connvient living like no other. Benefiting from a host of local amenites on your doorstep and being able to walk into the centre of Norwich, it is clear to see why Hellesdon is such a popular place to live.
A little bit of history
The name Hellesdon comes from Hægelisdun, meaning 'hill of a man named Hægel'! The spelling having changed to Hailesduna by 1086!
Need to know
JD Wetherspoons has only one outlet outside of the city centre and that happens to be in Hellesdon!
Shopping
Hellesdon has many established local businesses serving the community. In the heart of Hellesdon is The Bull roundabout, named after the popular pub which has recently changed names to The Chestnut Tree and has become a lovely family pub restaurant serving delicious food and drink including real ales.
Located around the roundabout are a variety of convenient shops which include a local co-op and newsagents, LE Electrical light shop and beauty salon as well as a travel agents, William Hill book makers and Seasons, a popular sandwich shop serving hot and cold food and drinks. Hellesdon is also home to The Whiffler pub restaurant which is the only JD Weatherspoon establishment outside of the city centre.
With two fish and chip shops as well as various other shops, Hellesdon's local business can cater for all your personal or family needs. It is even home to the largest Asda superstore in Norwich. As if all of this wasn't enough, the picturesque and historical city of Norwich is just 4 miles away.
Transport links
There is easy access into Norwich from Hellesdon via Reepham Road or Cromer Road. Each provide several bus stops and a straight run to Aylsham Road which leads to the city centre. There is also convenient access to the ring road which provides access to all sides of Norwich. The NDR (Northern distributor road) is just outside of Hellesdon and provides access to all major transport links including the A47 and the A11 London Road. Hellesdon is also home to Norwich International Airport
Winkworth Hellesdon is the trading name of Jamie Moore Limited Registered office: Anglia House 6 Central Avenue, St Andrews Business Park, Thorpe St Andrew, Norwich, Norfolk, United Kingdom, NR7 0HR Registered in England: No 10934520 VAT No. 284134308 Copy of Professional Liability Insurance available on request.