Landlord checklist: everything you need to know before letting your property
From fire certificates to safety checks, our landlord checklist contains everything you need to know before letting your property.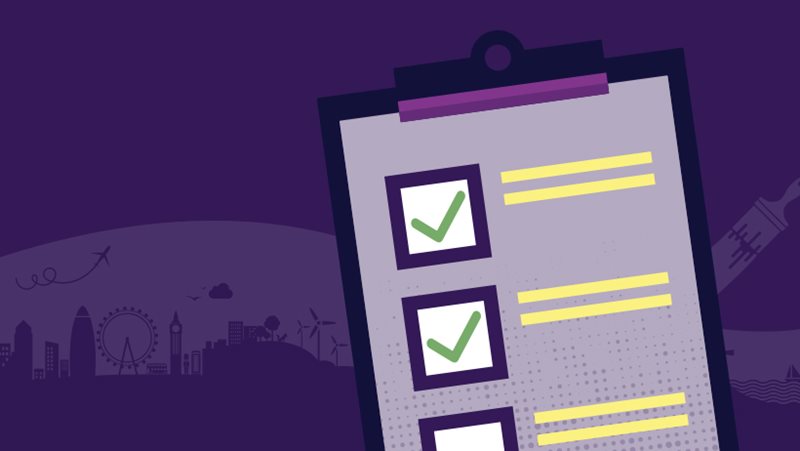 Whether you've bought a property to provide an extra source of income, or you've inherited a house and have ended up an accidental landlord, the responsibilities of your new role are the same. From fire certificates and safety checks to cleaning and inventories, there is a lot to think about when preparing for new tenants. Our landlord checklist details everything you need to know in order to get the most out of the experience, both financially and personally.

Know your tenants
Tenant referencing
Tenant referencing will provide an overall insight into your tenant's ability to pay their rent on time. It tends to involve identity and credit checks, looking into affordability, employability, credit history and any previous landlord references. Just as the tenant will take time to choose the right flat, it's important that landlords have the opportunity to make an informed decision about who rents their property.
Right-to-Rent checks
According to the Immigration Act 2014, landlords in England must carry out Right-to-Rent checks before proceeding with a tenancy. You'll need to check immigration documents UK passports, European Economic Area passport or identity cards, permanent residence cards or travel documents showing indefinite leave to remain, and keep copies. These checks are really crucial and failure to comply could result in a fine of up to £3,000 per illegal tenant.
Tenancy Agreement
Once you've found your tenant, the next step will be drawing up a tenancy agreement. This is the official contract that gives the tenant the right to live in your property, and you the right to receive rent from them. An Assured Shorthold Tenancy (AST) is the most common type and will include the basic information of the tenant, landlord and property, as well as the proposed dates and duration of the tenancy, a breakdown of payments and required notice periods.
Gut Feeling
Of course background checks will give you a good overview of potential new tenants but sometimes your instincts are the best judge of character. A tenant might look fantastic on paper but could fail to live up to expectations when you meet. Trust your research but do not ignore your gut.

Risk assessment
Unpaid rent, breach of tenancy agreement or merely excessive noise and uncleanliness are some of the issues you could potentially face as a landlord. The role is definitely not without its stresses but there are a number of ways in which you can protect yourself and your reputation.
Tenancy Deposit Protection (TDP)
Deposit protection is a legal requirement for landlords. Landlords must protect deposits within 30 days of receiving funds, or face a fine of up to three times the deposit amount. There are a number of government-backed Tenancy Deposit Protection schemes that you can choose to use in England and Wales. These are:
Mydeposits
Deposit Protection Service
Tenancy Deposit Scheme
These are designed with both the tenant and landlord's best interests in mind, providing protection by facilitating the process of dealing with deductions and disputes if things did end badly. A lot of tenants won't cause any problems, in which case, a TDP company will just return the deposit on your behalf.
Rent guarantee insurance
Even the most reliable of tenants can come into tough times financially which is why it's a good idea to have a rent guarantee policy in place. This will protect you as a landlord if tenants are, for whatever reason, unable to meet their rental commitments.
Landlord insurance
Arguably one of the most important ways to protect yourself as a landlord is to ensure that you have sufficient insurance in place. This should cover everything from costly repairs to flooding and fire damage. Standard home insurance won't provide you with all the protection you need as there are risks to renting that home insurance policies aren't designed to cover. Your landlord insurance can provide buildings and landlord's contents insurance (your tenants will be responsible for insuring their own belongings), loss of rent should your tenants have to move out unexpectedly, accidental damage insurance and legal expenses should you ever need to get rid of any problem tenants or squatters.
A good relationship
Taking time to listen to your tenants and making an effort to foster a good relationship with them will go a long way in protecting your own interests as a landlord. By dealing with problems promptly you'll build up trust and find out what is going on before it becomes a major issue - invaluable in saving you time, money and hassle in the long run.

Legal requirements
Complying with the necessary legal requirements as a landlord - of which there are quite a few - will of course ensure that you are not acting illegally, but it will also help to establish a solid foundation on which to build up your property portfolio.
Safety certificate
It's your responsibility as a landlord to make sure that all gas equipment and appliances pass an annual safety check, carried out by a Gas Safe registered engineer. You must provide a copy of the gas safety check record as soon as your tenants move in or within 28 days of the check being completed.
Energy Performance Certificate (EPC)
A valid EPC (Energy Performance Certificate) is a necessary requirement in order to let a property legally in the UK. This indicates how energy efficient a property is and is something you will need to provide every time you subsequently let your home to a new tenant. Properties are rated on a scale of A to G, with A being the most efficient and G being the least efficient. Since April 2018, landlords have an obligation to ensure that their properties achieve a minimum rating of E for all new tenancies (and for all existing tenancies from April 2020) or risk a penalty of up to £4,000. To get your EPC, you'll need to find an accredited assessor to review your property and provide the certificate. Details of assessors in your area can be found here:
England, Wales and Northern Ireland
Scotland
Electrical certificate
By failing to meet electrical safety obligations as a landlord, you could potentially expose yourself to unnecessary financial risks including substantial fines and invalidated insurance. But most importantly, you could be putting your tenants' lives at risk. Before a new tenancy commences, you'll want to get a registered electrician out to inspect and ensure that all electrical appliances, sockets and light fittings are in good working order.
Fire safety
By law you are required to install smoke detectors and carbon monoxide alarms on every floor in your property, and checking that they work on a fairly regular basis. Failure to do so could again potentially put your tenants' lives at risk, as well as result in a £5,000 civil penalty.

Your responsibilities
Make an inventory
It's not a legal requirement but an inventory will lessen the chances of a potential dispute over deposit in the long run. It should be signed and dated at the beginning of a tenancy to ensure that both the landlord and the tenant are in agreement over the condition of the property from the get-go. You can compile an inventory yourself, or you can pay for an independent professional body to carry it out. It's worth keeping in mind that the inventory is much more than just the furnishings. It can list such things as the cleanliness of the property at the start of a new tenancy, the condition of internal walls and the working state of fixtures and fittings.
Check appliances
In line with the electrical certificate, any appliance left in the property must be safe to use. Anything not working should be replaced or removed.
Cleaning
It sounds obvious but a clean home will be much more appealing to potential new tenants. It also sets a precedent for how the state of the property should be maintained throughout the tenancy. You may want to include a requirement in your tenancy agreement that the property must be returned in the same condition as it was let. Organising a professional clean prior to the new tenants moving in mitigates any potential disputes over the original condition when the tenant leaves.
Maintenance and repair
Everything from broken boilers to faulty plumbing and leaks now falls to you to sort out. A reliable landlord resolve all issues as soon as possible, no matter how inconvenient the situation may be. For any maintenance or renovation work, do remember that you'll need to agree a time that suits your tenants - although you own the property, it's illegal for you to let yourself in without arranging it with the tenant before hand.
If you would like help with the management of your property or require any advice, contact your local Winkworth office today.