Renovating a house: How long does it actually take?
Renovating a house? Get clued up with our guide covering everything you need to know, from finding and assessing a property to structural and design issues.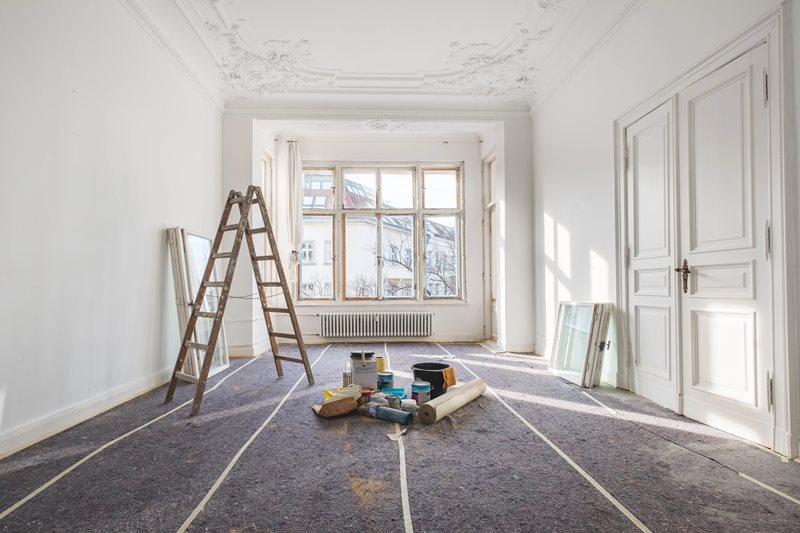 Renovating a house is an exciting, and in some cases profitable undertaking. It's your chance to put your own stamp on your property, increase its value or unearth original features that have been hidden away for decades. It could be the route to getting your dream home, when upsizing or moving house isn't an option. But most people will tell you, as exciting as it is, it can also be somewhat unpredictable. The success of renovating a house relies on being prepared for the road ahead, and an expectation that there will be some surprises in store. The process may bring up a set of issues that will need to be resolved before your dream home can emerge.
Being aware of potential issues and having a step-by-step plan of action should ensure the project remains on schedule and to budget.

Schedule of work
Contractors often get a bad rap for not finishing projects on time. With dust sheets on everything and strangers tramping through your home, a building project of any sort can feel like a lifetime. For the sake of your sanity, go in with a realistic awareness of how long your project will take.
Any good contractor will draw up a schedule of works before starting on your home. This will essentially outline every single job that needs to be done from start to finish, and where possible, will include who is doing what and how much it will cost. Communication really is key. On a typical schedule of works, your contractor will be able to advise you on things such as:
- Current condition assessment
- Decay prevention
- Demolition work
- Damp prevention
- Plumbing
- Site access
- Major building work
- Plastering
- Flooring
- Decorating
- Final clean

Possible delays
Starting out, you should know that delays are common. For larger projects especially, like a room addition or a complete kitchen overhaul, there will probably be days when not much happens because the contractor is waiting for an inspection or products to arrive. Most contractors worth their salt will anticipate delays or time spent waiting, and build those days into the schedule. Other things that might cause delays include products being out of stock, subcontractors running behind schedule, such as an electrician who's working on another project, bad weather, which can affect outdoor projects, and unexpected issues such as mould or rotting wood.

Planning permission
Depending on the type of work you are carrying out, and certainly if the house is listed or in a conservation area, you may require planning permission. Under Permitted Development Rights, some extension projects can be undertaken without the need for planning permission, but if you plan to build something new, make a major change to the building - for example if the extension increases the overall height of the building or is more than half the width of the house, or if you change the use of the building, you will need to obtain permission. An extension of any kind must comply with building regulations. This is different from planning permission; you may need to apply for both. You will need to submit an application for the work to your local authority's building control department. In most cases, planning applications are decided within eight weeks, however for unusually large or complex applications in England, it could take up to 13 weeks.

How long does it really take?
Many of these renovation roadblocks can be avoided, but the amount of time your kitchen, bathroom or basement overhaul drags on all hinges on the size of the space and having some realistic expectations.

Room addition
Timeframe: 6 - 16 weeks
Typically, a room addition is the longest project to complete. It's the same process as building a new home, just on a smaller scale. Delays can be caused by poor weather, products taking a long time to deliver or pouring concrete or framing if it's too cold. The upside is that you'll still have a functioning kitchen and bathroom during the remodel.

Complete kitchen renovation
Timeframe: 3 - 12 weeks
A complete kitchen renovation is a huge undertaking. It might involve everything from replacing cabinets and installing a kitchen island to replacing appliances, adding lighting, and changing flooring. Changing the layout, for example where the stove, fridge and sink are located involves plumbing, gas and electrical work which adds to the timeframe. Just having custom cabinets fitted takes around 2-4 weeks, and for high-end countertops you'll need your base cabinets installed first so that they can be measured before getting the countertops cut to size.

Kitchen update
Timeframe: 1 - 2 weeks
A kitchen update might include replacing cabinet box fronts, installing new flooring, changing hardware or updating appliances. A standard kitchen facelift can be finished relatively quickly and as such, are far less disruptive. Plumbing and electrical can stay as they are, and you'll still have access to your fridge until the new one arrives.

Bathroom
Timeframe: 3 + weeks
Transforming your outdated bathroom into an updated spa will likely include plumbing work, flooring, tiling and installing new appliances. Tiling, especially of the bespoke sort, can take a couple of weeks as each piece will need to be custom measured and cut before it is fitted and grouted. A custom glass shower door also takes time as it cannot be measured and ordered until the tub and walls are installed.

Loft conversion
Timeframe: 8 - 10 weeks
A loft conversion involves converting unused or unconditioned attic space into something more practical, like an office or extra bedroom. It may involve extending plumbing and electrical wiring into the roof space, as well as installing insulation, drywall and flooring. The downside is that you'll have to put up with workmen moving through the house to get to the top, but at least your main living areas will be free of construction work.

Hardwood flooring
Timeframe: 2 - 14 days
From moving the furniture to the surfaces covered in dust, flooring requires a huge amount of effort. If you use oil-based sealants, you'll have to live somewhere else to avoid breathing in toxic fumes, and you'll be unable to walk on floors for at least two days after the sealant is applied. The upside is that - size and area dependent - the project can be completed fairly quickly and may just be confined to one or two rooms.

Roofing
Timeframe: 2-5 days
The range of choices available when it comes to your roof can be daunting, and each material will have a different time frame to update or install. Most roofs can be replaced in a matter of days, although replacing or repairing thatch will take significantly longer and will require specialists. Unfortunately, weather conditions can delay roof work. Wind, rain and snow not only make it more dangerous to work, but may impact the quality of the end result. It's far better to wait for good conditions in order to achieve the best finish.

Looking to buy, sell or rent in any of these areas? Get in touch.