10 ways to improve your garden this summer
From landscaping to decorative features, get your outdoor space summer ready with these inspiring updates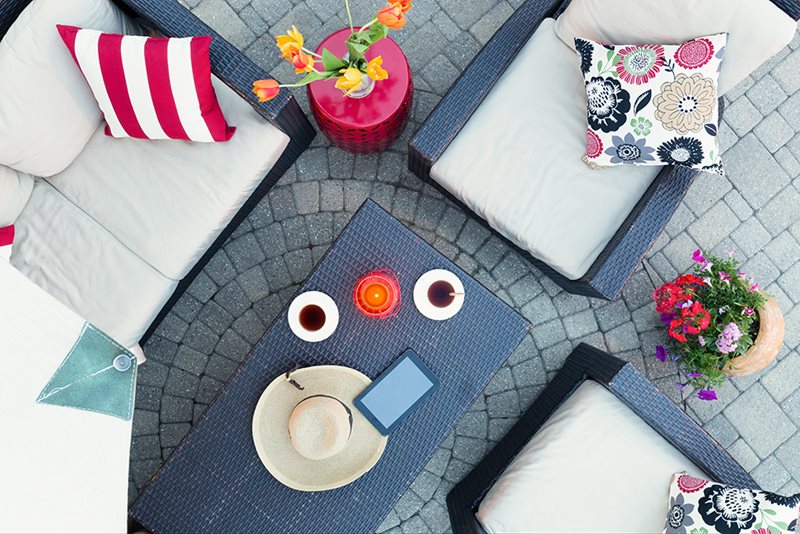 1. Get green fingered
Growing your own is easier than you think. Even if you don't have a lot of time for gardening, it's possible to have a productive vegetable garden - no matter the size - with a raised bed. They are an attractive feature and can be as big or as small as your space allows. More versatile than planting straight into the ground, raised beds also give you greater control over the soil type and start out completely weed-free, allowing plants to grow that otherwise would not thrive in your garden.
2. Illuminate the space
A balcony, patio or lawn area will all benefit from some carefully thought-out lighting. Anything with a warm, ambient glow will create a magical twilight atmosphere, allowing you to eke out al fresco summer evenings for as long as possible. Try a smattering of lanterns, a string of festoon bulbs or a subtle trail of floor lighting to mark out a path.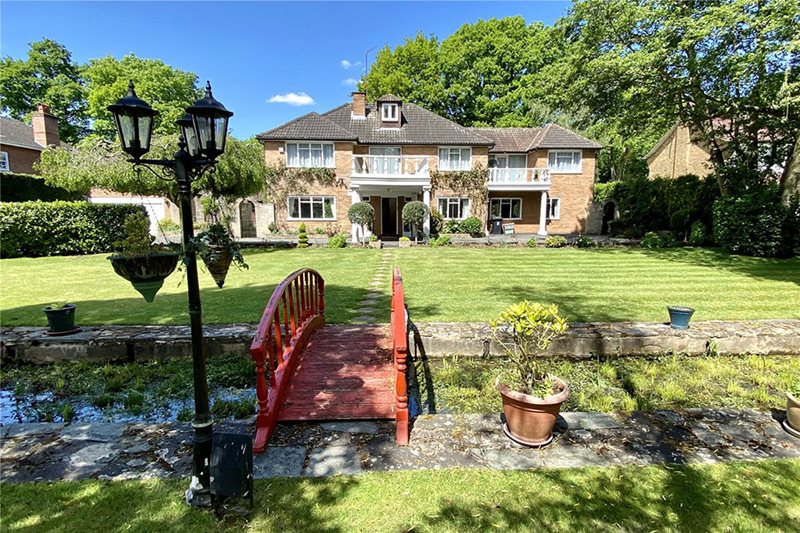 6 bedroom house in Stoke Poges - £1,299,950
The current owners of this impressive property have used a statement, cast-iron lamppost to draw attention to the back of the garden, while illuminating the way for a safe crossing over the bridge. The stream isn't the only notable feature here; the rest of the grounds comprise of an expansive lawn area, a spacious terrace, a mature woodland section and a large summer house with swimming pool and changing facilities, shower and sauna.
3. Maintain your borders
Boundaries are an often overlooked aspect of the garden, yet in many ways they are the backdrop for all other elements. Investing in your fencing design can completely transform your space, working as either an elegant focal point or a slick background against which other features will pop.
4 bedroom house in St Margarets At Cliffe - £680,000
The enormous plot of this Grade II listed property has a driveway fit for three cars and a spectacularly landscaped garden built on three levels. The garden architect has used neat panelling to divide each level, lining the semi-circular seating area and separating the patio from the lawn. It is an unusually large garden for the village which - subject to planning permission - has potential for further development on the lawn area.
4. Be clever with mirrors
Adding a mirror to an outside wall is a really quirky but cool feature which, when used properly, will work wonders for your garden. Exactly as it does inside the home, a mirror will create the illusion of more space. When placed in specific points, a mirror can also be used to brighten the space, reflecting light back into north-facing gardens or into shady corners. Small, window-like designs will hint at portals to different corners, giving your garden a magical air.
5. Create an outdoor living room
If done right, a garden becomes the additional room you didn't know you needed (weather dependent, of course). There are a number of design elements which, when combined, will transform the space into a peaceful sanctuary to sit back, relax and enjoy the surroundings. Try a seating arrangement beneath a pergola, a corner sofa built around a fire pit, a hammock that acts as a reading nook, or sophisticated wooden loungers complete with upholstery. Adding a conveniently placed coffee table and string lighting will create a wonderful setting to enjoy hot summer days and balmy evenings.
6. Add a water feature
Contrary to popular belief, a water feature doesn't have to cost a fortune. Something as simple as an attractive bowl filled with water will make a real impact, reflecting light and neighbouring plants. Calming trickling sounds can be generated by a rill or fountain, while a pond will allow you to grow aquatic plants and provide a home for newts, frogs and dragonflies.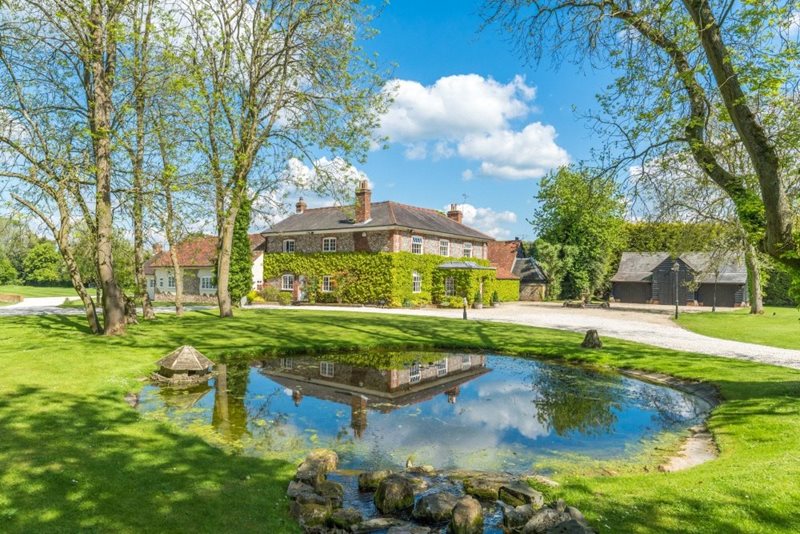 £2,500,000 Freehold
The grounds of Great Moseley Farm are undoubtedly one of the property's key selling points. The driveway alone is eye-opening, sweeping around the front of the house, with a feature fountain and room for multiple vehicles to turn around in. Either side of the driveway is a large lawn area with mature trees and shrubs, and a picturesque pond, perfect for attracting wildlife to the area.
7. Furnish your decking
Investing in some soft furnishings for your decking or balcony will create a sense of continuity from the house. Adding a rug, cushions, lighting and table plants all make for a very enticing space. Go that extra mile by coordinating your throw pillows with the florals - switching them up every now and then is an easy and cost-effective way to upgrade your patio each season.
8. Create more storage
If you've got the space, a shed can be a real asset to your home, providing ample storage, while blending seamlessly into the rest of the garden. This classic Grow and Store potting shed from Gabriel Ash is a clever, compact storage solution for your garden tools, but also has a generous adjoining growing space. Perfect for smaller gardens.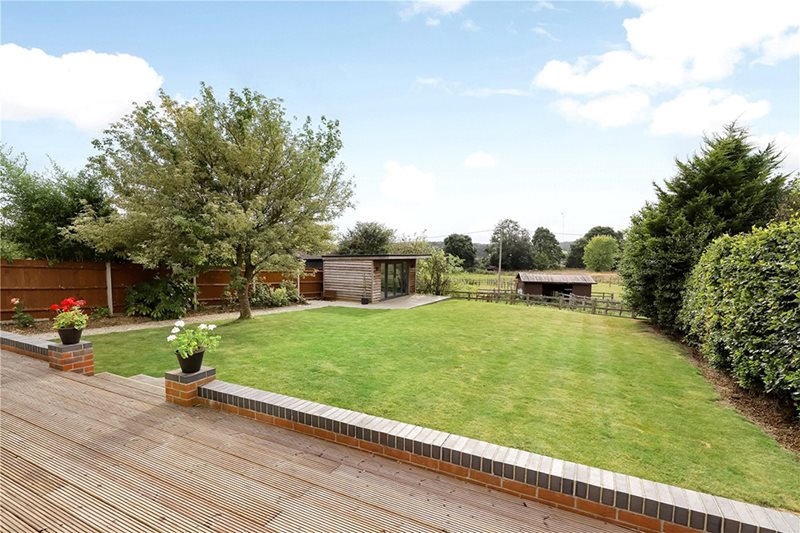 5 bedroom house in Whiteparish - £799,995 Freehold
As well as a detached garage, this five-bedroom property offers a smart garden room overlooking the paddock. The outbuilding is versatile - perfect for use as an office, a gym, a playroom or as additional storage space. To the front of the property is a drive with parking for multiple vehicles, while at the back, bi-folding doors integrate the house with the patio area, forming an impressive summer entertaining space.
9. Cook up a storm
Nothing says summer like the scent and sizzle of a BBQ. Putting some effort into your outdoor kitchen space will make al fresco cooking even more delightful. These days, BBQs come in all shapes and sizes (outdoor pizza oven anyone?) but having one built into the patio area will make for an enviable talking point. Shelving and storage, a sink and tiling are just some of additions that will make the space all the more impressive. But if the free-standing type is more your style, a stylish dining table will complete the space nicely. Take precaution against British summer showers by adding an awning to the seating area.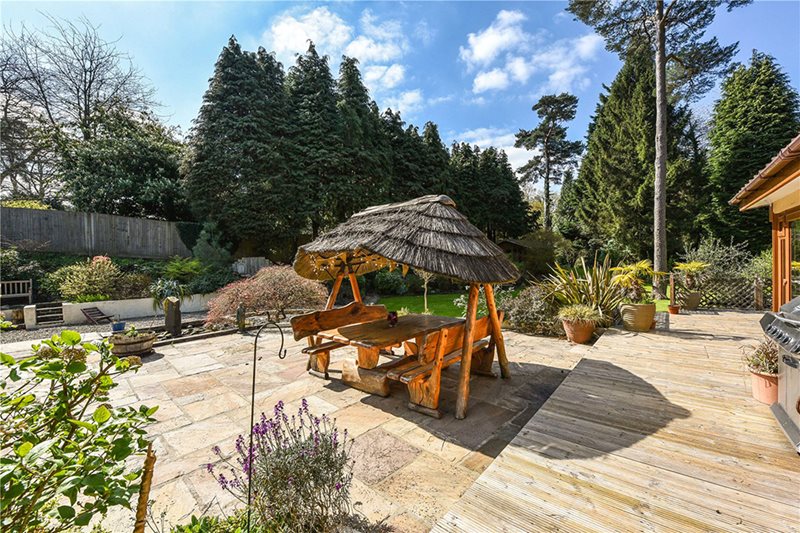 6 bedroom house in Chilworth - £1,495,000 Freehold
Big enough for business opportunities or for two families to live together, this property has ample ground space comprising a generous driveway and parking for multiple cars, two fishponds, a gorgeous lawn area, well-maintained borders and a summerhouse. Accessible from five of the downstairs rooms is a huge decking and patio area, perfect for al fresco eating and summer entertaining.
10. Care for your lawns
Your lawn requires regular care and attention to keep it looking gorgeous and green. Be consistent when it comes to removing weeds, leaves and moss. Rake up leaves as soon as they fall to prevent rot, and remove weeds by hand or with chemical treatment. A spring-tine rake or scarifier will get rid of moss; it's hard work but will prevent the moss from smothering the grass. Caring for the borders of your lawn will define the line between flower beds and grass, making the whole garden look instantly tidier. Spruce up the edges a couple of times a year if possible.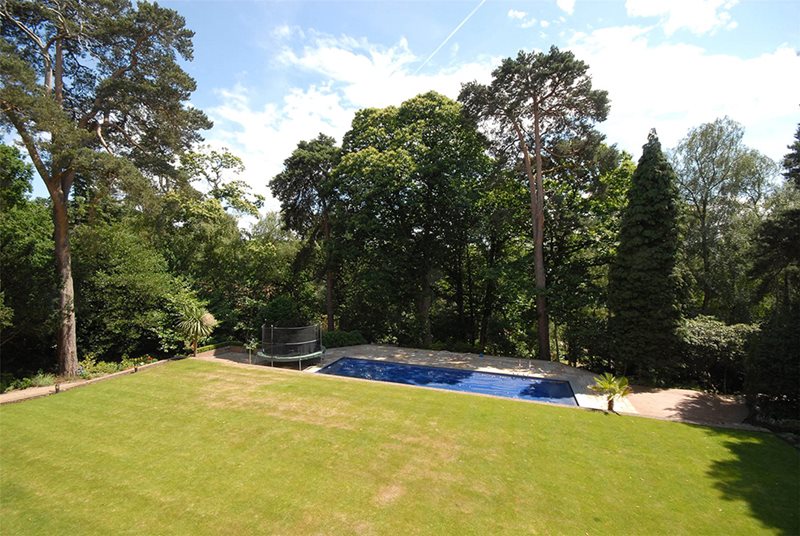 6 bedroom house - £4,500,000 Freehold
The ultimate lockdown home, this property sits within the 900-acre St George's Hill estate. Within the estate are three golf courses, multiple tennis and squash courts, an indoor pool and a well-equipped gym. Along with numerous outbuildings, the property has a private pool with a well-kept lawn, perfect for young families to play on when they're not splashing around in the water.
Are you looking to buy, sell, rent or let?