Forty years combined experience and unrivalled local knowledge.
Whether you're buying, selling, renting, letting, looking for property management or simply seeking some honest advice, at Winkworth Kensington Estate Agents we're here to help. With over 40 years combined experience selling and letting homes in Kensington and Holland Park, we know the area inside out. Do pop in to our lovely offices on Kensington Church Street for a chat.
Kensington office reviews:
Excellent Service!
"Sabrina Percy helped me in my search for the perfect London pied-à-terre. She is the most professional and reactive real estate agent I have worked with. She made sure to understand my needs, and submitted properties for my review, before taking me to visit the best available. Working with her was effortless, efficient and a pleasure."
By

Jacqueline
on 29/8/2017
Excellent, honest service
"One of the most trustworthy and genuine agents we have have had the pleasure of working with. Got to know all of the team, from renting to buying they really have been superb and gone out of their way to ensure both processes have been as easy as possible."
By

gem & Ian
on 23/8/2017
"Thoroughly recommended"
By

Concha San Valero
on 11/7/2017
Attentive and professional
"Have dealt with Josh over a number of years. He has has always been willing to help and give advice. Latterly also worked with Christine Reeves, who also showed great professionalism and a willingness to go the extra mile. Happy to recommend at any time!"
By

Peter Rolls
on 1/7/2017
Sublime in the right manner
"Sabrina was able to guide me effortlessly around what is a very expansive range of options which met my needs and indeed in the end gave me an even better outcome than I had thought possible at short notice."
By

Trevor
on 31/5/2017
Helpful and communicative
"Sabrina at Winkworth went above and beyond to help me out as a newcomer to London and was extremely knowledgeable, communicative and helpful. It was a pleasure dealing with Sabrina!"
By

Verity
on 15/5/2017
Very good service from the Lettings Team
"An overall very positive and pleasant experience, especially with Edward (Bernsted) who has been amazing in helping us with our search for the ideal property. Edward has been very responsive and pro-active, always going the extra mile to understand our needs and requirements, without being pushy or putting the pressure (unlike his manager who tried to close a deal on a property too soon, and put pressure on us in a slightly forceful way). He has been extremely professional and pleasant to deal with - and... I will miss his great sense of humour!"
By

Laurence Fava
on 9/5/2017
Proactive and extremely helpful
"Sabrina at Winkworth went above and beyond to help find a place that would be suitable for all 3 of us. She went out of her way to send a multitude of properties to assess what were definite no's and what were good options. This really helped in not wasting time viewings properties we would automatically say no to. We initially went in looking for a 3 bedroom property which dropped to a 2. So, we weren't the easiest to cater to! Even when on leave, she made sure to provide us with contact details of her colleague who seemed well informed about our requirements. She was very professional and didn't bombard me with calls like other agents. I made a point of asking to be contacted by email due to being so busy at work and she respected this wholly. Will definitely seek for her help should I need to move again. Many thanks!!"
By

Norah
on 2/5/2017
Edward Bensted - Simply the best
"Edward Bensted is simply the best agent I have ever come across. He is dynamic, hard working, he gets what you want, doesn't waste your time and truly cares about making you happy! My experience has been exceptional. Even though we have been difficult and have even changed our search location or even presented him with new radical ideas re what we were looking for (and yes we are very demanding), Edward always accommodated us. He even made sure that the agents at the other offices that he put us in touch with were on the ball with us and always followed up after our visits if he couldn't accompany us (not only working hours but outside office hours too). My husband and I highly recommend Edward Bensted, as you would be lucky to have his service."
By

Timi
on 20/4/2017
"Thank you Sabrina and team for your professional service."
By

Ruadhan
on 4/4/2017
Opening Hours
Mon-Fri

8:45am to 6:00pm

Sat

10am to 3pm

Sun

Closed
Selling or letting your home?
Have a property to sell or let in or around the Kensington area? We'll happily provide you with a valuation.
Request Valuation
Featured Kensington Properties
A few of our current favourites in and around the Kensington Area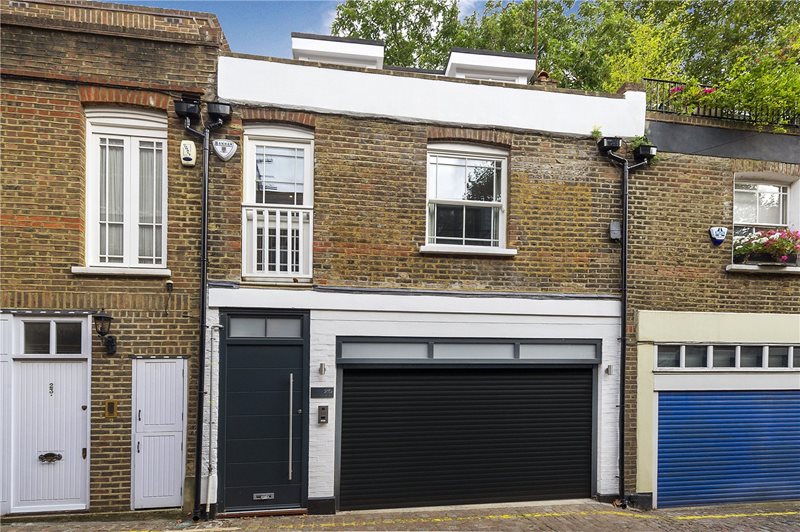 Drayson Mews, Kensington, W8
£2,300,000 Freehold
Addison Road, W14
£2,295,000 Share of Freehold
Campden Hill Gardens, Kensington, W8
£1,675,000 Share of Freehold
Find More Properties in Kensington:
Kensington is classic urban village with distinct character of its own. Beautiful streets, great shops, restaurants and transport links. Kensington Gardens and Holland Park are the extensive green 'lungs' for the area. Great place to live and great place to work.
Josh Grinling
Director
Meet the team
There has been a Winkworth office on Kensington Church Street since the 1970's. The current owner is Josh Grinling who has run the office since 1997. His Sales Manager, Caroline Reeves, has been with him since 1998. Federico Young, the Lettings Manager, is a relative newcomer having joined in 2011.
New Homes London

New Homes London

Winkworth New Homes London is a leading sales agent of newly built residential property across the Capital.

Buyers guide

Exciting times, buying a property. There's a lot to think about though.

Country House Department

At Winkworth we understand a house in the country is more than just bricks and mortar.