Video Appraisals
We're here... to keep Harringay moving.
If spending more time indoors has got you thinking about your next move, why not book a free no obligation appraisal via video call.
Meet the go-to agency for those seeking homes in a thriving North London community.
At Winkworth Harringay we pride ourselves on being more than just estate agents. We strive to be experts in the local area too, whether it's the Harringay Ladder, Finsbury Park, Manor House, Tottenham, Seven Sisters, Stamford Hill, Turnpike Lane, Wood Green, Alexandra Palace or Bounds Green. So, whether you're buying, selling, renting or letting or simply need some advice, pop into our office on Green Lanes for the experience and the local knowledge you need.
Harringay office reviews:
Great service both as a buyer and seller
"Having had multiple valuations on our property prior to sale, we decided to go with Winkworths, not solely due to their valuation or fee (though this was competitive), but as they were helpful with discussing how various points of the property could be marketed, and had an independently verified track record of rapidly progressed sales & high offers (from getagent. co. uk). Rose was great at getting viewings booked in around our schedule (with a very young baby we needed them to be collated), and though we unexpectedly had to do one viewing ourselves due to miscommunication, true to our expectations we had a good offer within 3 weeks. When we later found a property we liked, it was happily also with Winkworths, and Jake was very friendly, accommodating and helpful in dealing with our enquiries. As we were trying to purchase before the SDLT deadline in a very ambitious 3. 5 weeks, I then had very regular and extensive contact with the sales progressor Debbie, who was available, friendly and efficient at helping us to complete within this very rapid turnaround time. Overall, though it was as stressful as such an incredibly fast purchase was bound to be, we managed to get in in time, with Debbie and Jake both fielding communications into the evenings and weekends to make it happen. Can definitely recommend."
By

James
on 13/7/2021
"Our experience with Winkworth as first time buyers was stellar. Jake and Helga were dedicated, proactive, attentive and just a pleasure to deal with. Buying your first home is a stressful as it gets, but these guys managed to generate an atmosphere of calm and pragmatism, keeping all the parties involved working together. I know I will go to them if I ever decide to sell, and you should too!"
By

Veronica
on 12/7/2021
Superb client service
"Superb service from the Winkworth team, from the initial meeting with Michael to the viewings and then progress through legals. Jake and Debbie were a pleasure to deal with - remaining calm and positive, especially when any bumps in the road were encountered. We would be very happy to fully endorse Winkworth for any sellers in the Harringay area looking for a high quality agent to sell their home."
By

PS
on 2/7/2021
Lucky to get Rose!
"Rose took my preferences on board (not just using the automated system!) And I found what I was looking for right away. She was always very efficient and continued to follow up even after I was passed on to another member of the team. If you're looking for someone active I would definitely recommend Rose!"
By

Charlotte
on 1/7/2021
Amazing speedy professional service
"The team here are the best in the business, speedy, professional, reliable service! Thank you for making the sell so easy."
By

Kem
on 1/7/2021
HOUSE PURCHASE IN N22
"Hey I recently bought a 2 bed on Moselle Ave, N22. Rose was my contact during this process. Rose was really supportive, encouraging and positive throughout my house purchasing situation. I had a few different bids and finally got my house on the fourth different property. Rose was understanding and really guided me through this process. Communication was smooth, personal and super efficient. I met a few different agents during my months of viewings, all super helpful and friendly. I worked with Debbie on the completion part of the process. Debbie was great, explained the processes also, and was very positive and supportive. I would recommend winkworth and Rose totally to my friends."
By

katey leyland
on 1/7/2021
Highly recommend
"Jake and, in particular, Helga went above and beyond for my family and I. From supporting us with finding buyers, getting the best possible price and advice on our purchase to getting us over the line in time for the stamp duty holiday when it seemed impossible. Great communication with us and legal teams and, most importantly for me, kind. Thank you."
By

Hannah
on 1/7/2021
Highly Recommended (Second Time Buyer)
"This is the second time we buy a house in the UK and so able to compare agencies - and I cannot recommend Winkworth enough! Our agent, Jake, was there for us every step of the way, supporting throughout the many months of the sale process. Jake was professional, responsive, and helpful even outside working hours and his core responsibilities as an agent. We honestly wouldn't have bought this property without him."
By

hadas
on 28/6/2021
"Helga is an exemplary employee for Winkworth and should be promoted for her efforts on selling my property - calm, considered snd effective. A valuable asset for Winkworth"
By

Danielle
on 25/6/2021
Fantastic Service - especially Helga our sales progressor
"Winkworth were great, really supportive and cared about the flat. Right from the start when Josh came to view the flat and he really seemed to appreciate it as much as I did so I knew I was in good hands with my sale. In terms of getting viewings the team were fantastic and unlike online agents, they were so easy to access for all queries and for potential buyers wanting to view the flat (having viewed lots of properties myself I have found booking appointments with online agents very difficult which as a buyer put me off). We eventually ended up having 4 offers and going to best and final offers and agents such as Cleo worked so hard to ensure I had the best possible sale. She liaised really well between the potential buyers and me so that I had more of an idea who was interested in the flat so that I could choose not only a solid offer but also someone who genuinely loved the property to live in. As a seller I really felt they cared about me during the process. Prior to the four offers, it was a long and initially rocky process, through no fault of Winkworth. Winkworth were fully supportive of me during this difficult time and I really felt they had my best interests at heart. Helga in particular backed me up constantly which was really appreciated particularly during an especially difficult interaction with a potential buyer early on. During the final sales process she was pivotal in ensuring that my buyers were able to complete before the stamp duty deadline and she really went the extra mile to ensure completion. For that I will be forever grateful. I cannot thank the team at Winkworth enough for their hard work and care for both me and my property. I really hope the new owners love it as much as I did! I couldn't recommend them highly enough. Thank you Winkworth Harringay."
By

Bea
on 17/6/2021
Opening Hours
Mon-Fri

9am to 6pm

Sat

10am to 3pm

Sun

Closed
Selling or letting your home?
Have a property to sell or let in or around the Harringay area? We'll happily provide you with a valuation.
Request Valuation
Featured Harringay Properties
A few of our current favourites in and around the Harringay Area
Allison Road, Harringay Ladder, London, N8
£950,000 Freehold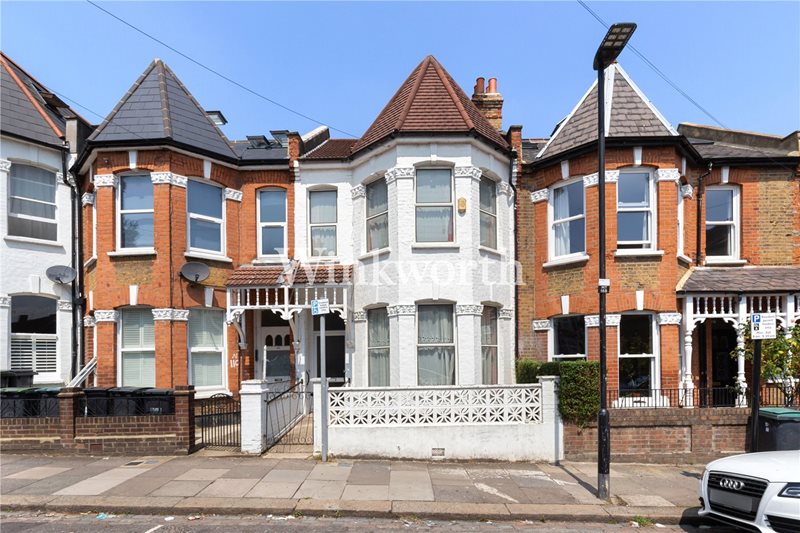 Mattison Road, Harringay Ladder, London, N4
£950,000 Freehold
Seymour Road, London, N8
Guide Price £875,000 Freehold
Find More Properties in Harringay:
Winkworth Harringay is your established local independent estate agency with specialist departments for sales, lettings and property management. Serving Harringay, Tottenham and Wood Green, we've seen the area flourish over the years. Our professional dedicated workforce is committed to achieving a positive outcome for our clients in all market conditions.
Michael Persaud
Director/Sales Manager
Meet the team
At Winkworth Harringay, we have a comprehensive team of knowledgeable and personable property experts who are excited about the local area. So whether you're buying, selling, renting or letting or simply need some advice, pop into our office on Green Lanes for the experience and the local knowledge you need.
The Winkworth Magazine

The Winkworth Magazine

In 'The WM', we'll be bringing you the latest market news and insight, and will be showcasing some of the finest property in your area.

Buyers guide

Exciting times, buying a property. There's a lot to think about though.

Country House Department

At Winkworth we understand a house in the country is more than just bricks and mortar.