Winkworth Chiswick Estate Agents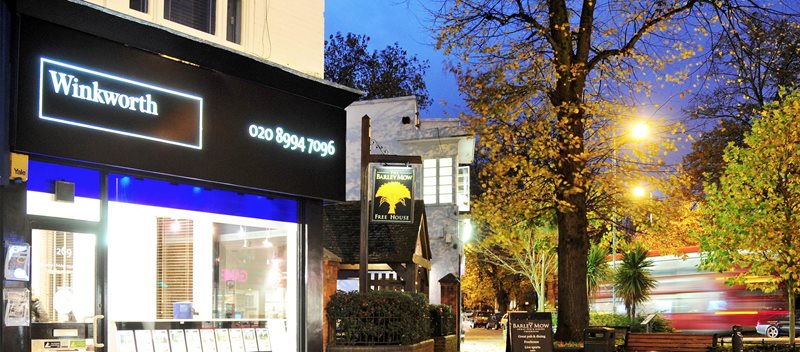 'People matter'
Here at Winkworth Chiswick we believe that people matter. From our staff who have a passion for the area they work in to our clients with their individual needs, we understand that it's people, not just homes, at the heart of our business. That's why over the past twenty years we've supported a number of local events, schools and clubs and take huge pride in being a part of the Chiswick community.
Sales
Winkworth Chiswick 269 Chiswick High Road Chiswick London W4 4PU
Opening Hours Mon-Fri 9am to 6pm Sat 10am to 4pm Sun Closed

Rating
"Great flat searching experience with Winkworth Chiswick! Was assisted by Alissa in my house search and would highly recommend! Very professional, Alissa supported me through my journey up to signining the contract and beyond. Enjoyed working with her and cannot thank her enough for making my rental so stress free!"

Irina Sokolova

on 25/5/2022

"I had a wonderful experience with Winkworth Chiswick. Ellie and Zack are both great, collaborative and ready to help. As a buyer or seller, I would love to deal with them again in the future."

Haider Khan

on 19/5/2022

"What a pleasure to navigate London's tricky rental market with such consummate professionals. Alissa Sammassimo and Louise White took all the hassle out of my search for a place fitting my requirements and made the application process close to seamless. If you're looking to rent in the area, don't go anywhere else."

Andrew Alexander

on 29/3/2022
Meet the Team
Our team are here to support and advise our customers when they need it most. We understand that buying, selling, letting or renting can be daunting and often emotionally meaningful. We are there, when it matters, to make the journey as stress-free as possible.
See all team members
Got a question about Chiswick?
Sold properties in Chiswick
A few of our current favourites in and around the Chiswick area
Online Valuations
Aren't Worth The Paper They're Printed On.
When online valuations don't give you the whole picture - try Winkworth's expert service
Book your free appraisal today
Available properties in Chiswick
A few of our current favourites in and around the Chiswick area
Why move to Chiswick?
Chiswick is quite rightly one of London's most sought-after areas. Despite being less than half an hour from the centre of London, it retains a village feel and boasts great transport links, green spaces, cafes and restaurants.
A little bit of history
Dukes Meadows was home to an annual cheese fair until the 18th Century and lead to the town's name of Chiswick, an old English word for 'Cheese Farm'. Bedford Park is an area of houses designed by Norman Shaw in 1877 and is the original Garden Suburb.
Need to know
Helen Mirren, Kate Beckinsale, Pete Townshend and Sebastian Coe were all born in Chiswick.
Shopping
The Westfield shopping centre is very close to the area, but with its large variety of independent stores, Chiswick has plenty of hidden gems to be found. Chiswick High Road alone has around 250 shops and that's before you've even started exploring Devonshire Road and Turnham Green Terrace.

Winkworth Chiswick is the trading name of WSW London LTD Registered office: Ground Floor Office, 141 Ladbroke Grove, London, England, W10 6HJ Registered in England: No 10554818 VAT No. 264520710 Copy of Professional Liability Insurance available on request