Wish we were here – Winkworth Franchising plans for expansion
Many of us have rediscovered, through two years of staycations, the beauty and attractions of many of England's coastal areas, cathedral cities and historic market towns in picturesque parts of the country. From spending long weekends to taking a few days' holiday in coastal destinations from childhood, discovering for the first time the delights of the ancient university cities or recalling memories of student life in places such as Oxford and Bristol.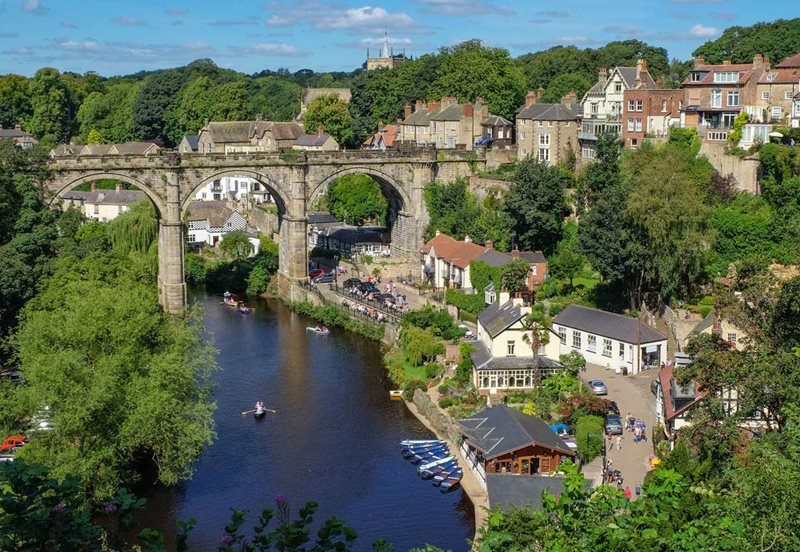 Beyond holidaying in England, growing numbers of people are now considering moving to places where they can establish a hybrid pattern of working – a couple of days in the office and the rest working from home, as the effects of the pandemic continues to re-shape our future working lives.
At Winkworth Franchising, we have drawn up a wish list of destinations where we are looking to open offices to extend the reach of the 100-strong network of offices, in strategic locations where there is strong growth potential.
The spa town and rural district of Harrogate has been selected as a strong contender for a new franchise. Famous for its rich history, thriving cultural and restaurant scene and surrounding Areas of Outstanding Natural Beauty, the district has a £3.85bn economy, over 13,000 businesses as part of a wider Leeds City Region of 1.9million people. Harrogate has excellent schools and close proximity to nine universities – and is just two hours from London by train.
The grand Georgian terraces of Clifton in Bristol, with its village centre, independent vibe, and mix of affluent locals and students, also features on the Winkworth target list. The Bristol and Bath region is one of the UK's most successful and desirable places to live, with a population over one million and over 43,000 businesses, contributing £33bn to the UK economy. It has one of the UK's highest retention rates of students who studied at the four universities in the region, who are attracted by the career opportunities in technology, aerospace, creative industries and energy, and the quality of life on offer. Bristol airport connects with national and international destinations, the city is close to major motorway and rail routes and fast train connections to London. The smart city region is home to a 5G testbed and the UK's most productive tech cluster, providing world-class digital connectivity.
Oxford, city of dreaming spires, ancient university and stunning architecture, has a booming economy and over seven million visitors every year. The city has a large number of people employed in universities but also has significant numbers employed in publishing, tourism and a growing research and tech sector. Winkworth is looking specifically at the Summertown area in North Oxford, bounded by the Cherwell, which has a vibrant shopping and business centre and attractive residential area, with excellent schools, both state and independent. Oxford has excellent train and motorway connections, making it an ideal strategic place to live for people working locally, or travelling to London or the Midlands.
Heading south to Hampshire, the Georgian market town of Lymington is set on the coast in the New Forest National Park, with good access to Southampton or west to Bournemouth and Poole. The town has picture postcard cobbled streets of Georgian townhouses, as well as coastal and countryside properties. It has a renowned sailing history, with two large marinas, as well as two sailing clubs and the Old Town Quay, which is still used by commercial fishing boats. There is also a car ferry across the Solent to the Isle of Wight. Lymington High Street has independent shops and designer boutiques, restaurants and pubs, as well as a local market held each Saturday. The town attracts day visitors and those staying for a few days, as well as being a great place to live or have a weekend bolthole.
Along the coast to the county town of West Sussex, Chichester is a relatively small ancient cathedral city with Roman origins, many listed buildings, a thriving tourist industry and strong cultural scene, with several marinas and the coast close by at Chichester Harbour and West Wittering and the hills of the South Downs providing an idyllic backdrop. The residential areas of the city feature Georgian townhouses or cottages and good post-war properties. Trains to London take around 90 minutes.
Winkworth is looking to expand in Kent, with historic market town, Sevenoaks, in its sights, a favourite destination of people who work in the City, with fast train connections to London Bridge just over 20 minutes. The focus of the business would be on Sevenoaks and the picturesque villages in the surrounding areas, set in the beautiful Kent countryside. The region is a magnet for families looking for excellent schools, with state grammar schools a particular draw, and leading independent schools such as Sevenoaks and Tonbridge. The area has a diverse economy, worth around £3.1bn with nearly 8,000 businesses, including technology, creative sectors, start-ups, horticulture and leading brands such as Rolls Royce Motor Cars and Goodwood.
Dominic Agace, Chief Executive, Winkworth, said: "We are now looking to speak to property professionals with exceptional knowledge of these areas, already working in the regions or with good recent experience, who are looking to run their own businesses. We have selected these locations for their growth potential and to complement our existing network."
If you are an ambitious property professional interested in franchising opportunities with Winkworth, please contact the New Franchising Team today
Interested in owning a Winkworth office?