The best canal walks across London
Here we round-up the canal walks across London that are both pretty and packed with intriguing discoveries.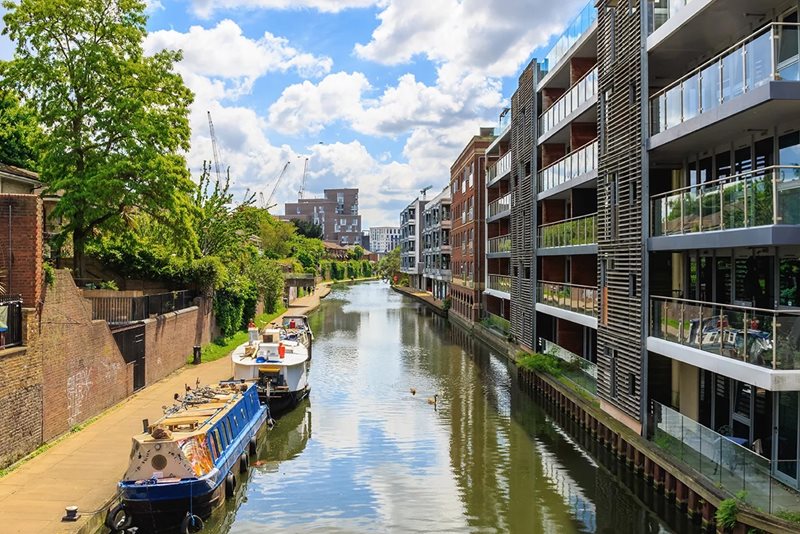 As the name suggests, the Regent's Canal dates back to the 19th century and was once London's best-kept secret. It's a calm but atmospheric waterway which today attracts many walkers, boaters and commuters, drawn to the colourful collection of narrowboats at Little Venice or the craft stalls and quirky clothing shops of Camden Market. The Regent's Canal is a key part of England's canal network, linking the Grand Union Canal with the Thames. Running from Paddington to Limehouse, it was once a commercial artery from the countryside into the heart of London. Today it has become a network of pleasant waterside paths and walks, peppered with hidden cafes and secret green spaces. Here we round-up the canal walks across London that are both pretty and packed with intriguing discoveries.
LITTLE VENICE TO CAMDEN WALK
Start: Little Venice
Finish: Camden
Distance: 2 miles
Little Venice lies in the north west where the Grand Union meets the Regent's Canal. Legend has it that the name was coined by the writer Robert Browning who lived in the area and was taken by the attractive narrowboats that are still here today. This aside, London's Little Venice doesn't have much to do with its Italian counterpart but, lined with boats and surrounded by white stucco-clad Regency houses, it does offer a window into the past. You'll find a similar aesthetic when you walk the canal east to Camden where the iconic market stands as an end goal. Along your way, you'd do well to stop by Cafe Laville, a gorgeous Italian eatery with views over the water and a rustic but contemporary menu.
THE CUMBERLAND ARM
Start: Regent's Park
Finish: Euston
Distance: 1 kilometer
Opened in 1816, the Cumberland Arm of Regent's Canal was about half a mile in length and one served the market area and military facilities north of Euston Road. Heavy active service during the Second World War put an end to the use of the arm as a link to the rest of the British canal system and consequently it closed in 1942. Traces of the Cumberland Arm can be seen today, most notably the intriguing 'bridge over nothing' in Primrose Hill and the Feng Shang Princess Chinese restaurant which sits at the stump end of the arm, known as the Cumberland Basin. The restaurant was built back in the 1980s from an oversized barge and was the first floating restaurant in London.
MILE END TO VICTORIA PARK
Start: Mile End
Finish: Victoria Park
Distance: 0.9 miles
The short stretch between Mile End and Victoria Park is packed with fun activities for the whole family. Just off the canal path by Mile End Park is Revolution Karting – a 750-meter outdoor go-karting track for anyone that fancies themselves a petrolhead. Prices start from £25 per person and there are lunch packages to make a day of it. Back on the canal, if you continue walking for 1km and look to your right, you'll see Mile End Climbing Wall. It's one of the best walls in London and offers lessons and climbing sessions for all abilities. Walk for 10 more minutes and you'll get to Victoria Park. This huge green space spans around 213 acres of parkland, bordering parts of Globe Town, Hackney and the rest of Bow. Head over on a Sunday to get seasonal fruit, organic farm produce, fresh fish, locally baked bread and some of London's best street food at Victoria Park Market.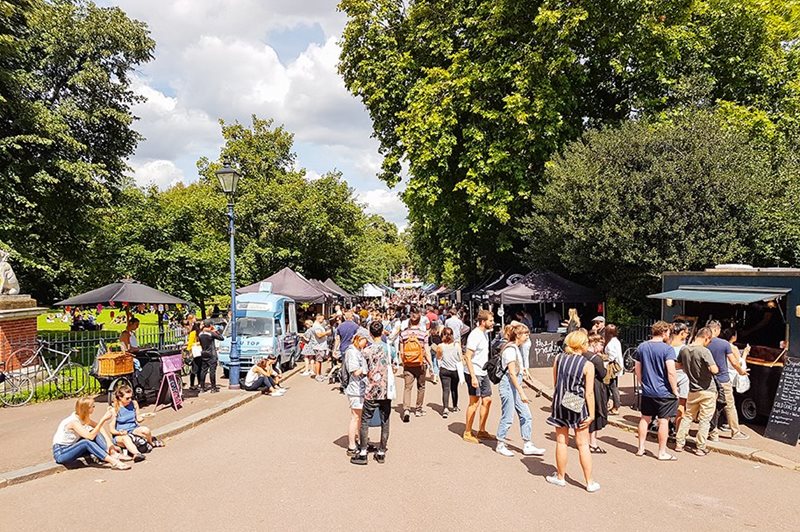 CAMDEN LOCK MARKET TO LIMEHOUSE BASIN
Start: Camden
Finish: Limehouse
Distance: 6 miles
The stretch from Camden to Limehouse Basin starts amongst the crowds and the aroma of street food at Camden Lock Market, before winding six miles past Regent's Park to Limehouse. Before setting off, it's definitely worth taking a moment to soak up the atmosphere of the market and grabbing a bite from one of KERB's thirty five street food stalls. Here you can get everything from mac 'n' cheese and meatballs to pizza and poke to fuel up before your walk. The paths to Limehouse Basin can get quite busy with walkers and cyclists but you'll see some green spaces along the way.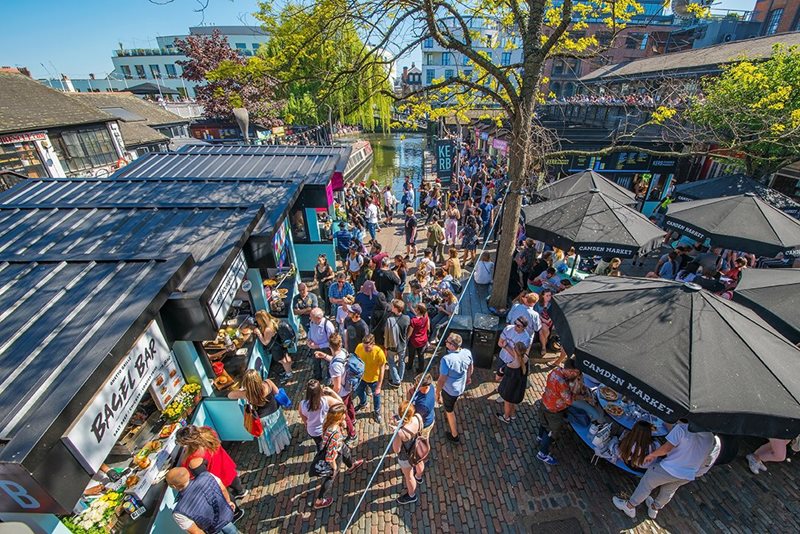 LIMEHOUSE CUT
Start: Bow Locks
Finish: Limehouse Basin
Distance: 2 miles
The poker-straight stretch connecting Lee Navigation at Bromley-by-Bow to the Thames is London's oldest waterway, dating back to 1766. It meant that sailing barges coming down the Lee to London didn't have to wait for the tide before navigating the long southward loop around the Isle of Dogs. No longer used for transhipment between canal craft and coastal vessels, this is now known as Limehouse Basin and has been transformed with new housing, a marina, walkways and facilities for boaters. This is an easy and peaceful walk through the heart of East London with plenty to see and information boards on the history of the area.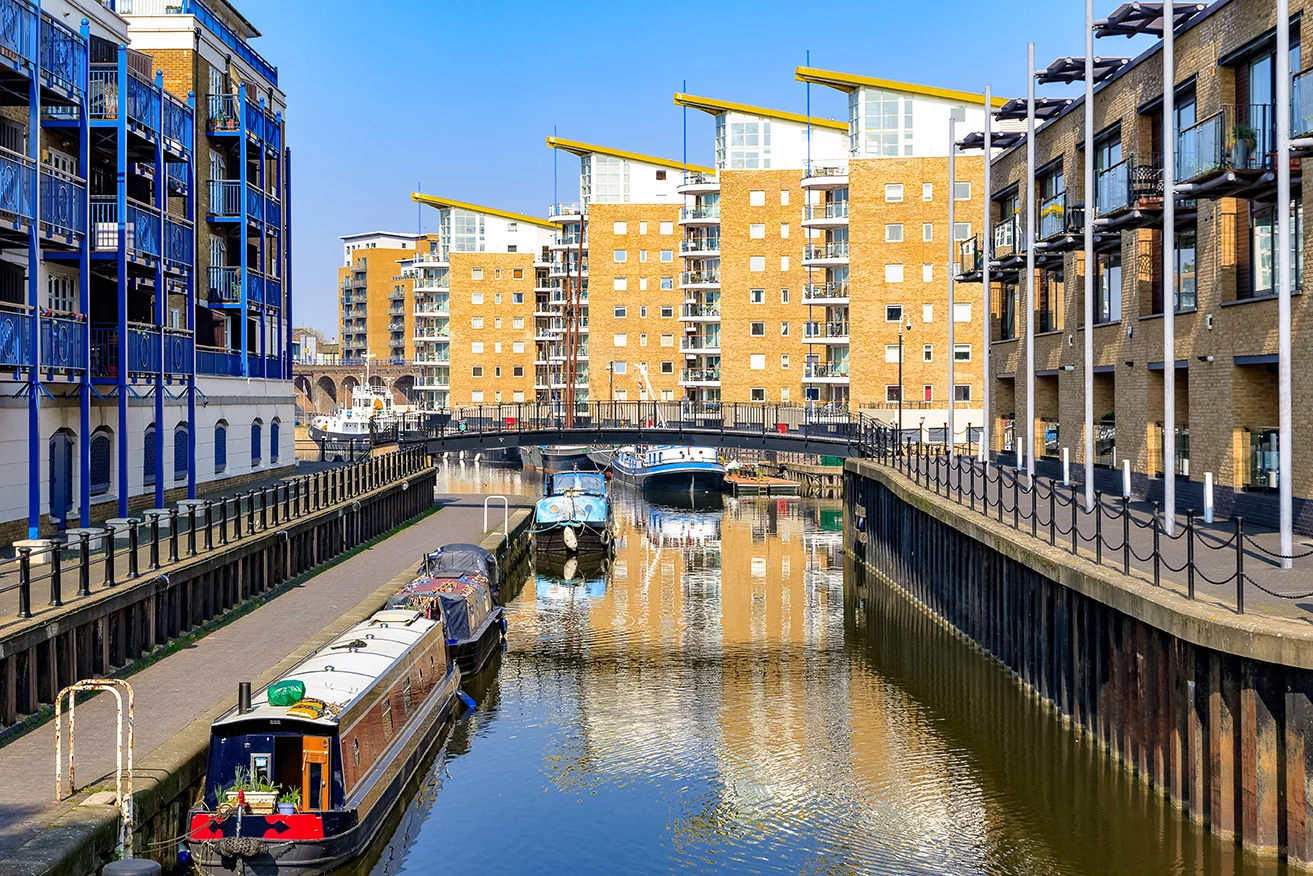 HE PADDINGTON ARM
Start: Little Venice
Finish: Bulls Bridge Junction, Slough
Distance: 13.6 miles
The Paddington Arm connects Paddington to the main branch of the Grand Union Canal. It's a green corridor cutting through west London, attracting both people and wildlife. This long, meandering waterway runs from the junction with the Regent's Canal at Little Venice, to Bulls Bridge Junction near Slough, through the suburbs of west London until it joins with the main Grand Union Canal. Today there is a thriving community along the canal with pubs, restaurants, bars and cafes. You'll also pass Paddington Basin which forms a part of the Grand Union Canal between Paddington and Edgware Road underground stations. If you visit at noon on Wednesday or Friday, or at 2pm on Saturday you'll see some seemingly inconspicuous bridges transform into a remarkable architectural spectacles. The Fan Bridge, designed by Knight Architects, separates into individual blades like a traditional hand-held Japanese fan, while Heatherwick Studio's Rolling Bridge curls round into something that resembles the shell of a mollusc or a hamster wheel.