The lowdown from Hamish Allan, Associate Director of four Winkworth offices.
What's your patch like?
Unique I think! We have so many diverse and eclectic styles of properties, and lots of transition between the various areas: Islington, Highbury, Shoreditch and Hackney. The Hackney market now is quite similar to the Highbury market 10 years ago, and we see people scaling up from Islington or Shoreditch flats to houses in Highbury or Hackney.
How's the local property market performing at the moment?
Brilliantly. Phenomenally, in fact. Highbury and Islington experienced an 82% increase in new buyers registering in the period between January 2021 and 2022. And recently we've had 44% of properties going to sealed bids, achieving prices well above asking prices. The vast majority of demand is for family houses in catchment areas for good schools. It's not so much a drive for greater space; last year's Covid rush for gardens is over – now it's competitive parents after a good local primary. We've also seen the rental market flourish in recent months. Rents dropped by about 15% during covid when there were no students, no international clients and lots of vacant properties. Now there's a rushback to rentals and significant undersupply is pushing prices through the roof. Increasingly, renters are realising that mortgage repayments are cheaper than monthly rents, and are looking to buy.
Is this a typical spring market?
There hasn't been a 'typical' market for some time. Last year we had the stamp duty deadline, while this year the market is being led by London reopening and people going back to the office. Even though there have been interest rate rises recently, rates are still very low and banks are very willing to lend.
What advice would you give to sellers?
Usually at this time we'd be advising people to hold off during the Easter holidays and wait for gardens to be in bloom before listing, but now my advice is to strike while the iron's hot. Demand is there! With the cost of living and inflation increasing over the next few months, we don't know how long it will continue.
Why should people think about moving to these areas?
Highbury and Islington specifically offer established markets with potential for further growth. Buyers will make significant margins in these areas that continue to improve with wonderful schools, parks and transport links. This all sounds a bit generic – the areas also have lots of character: they're vibrant and multicultural. Shoreditch is exciting and with its continued development it's not as rough around the edges as it used to be, but still youthful and vibrant. Hackney has its established expensive roads, but there's still a lot of gentrification happening with people scaling up, bringing an ever-changing high street with new restaurants and popups.
What kind of housing stock is there in these various areas?
Predominantly it's Victorian terraces. Some are bigger, redbrick big houses and there are smaller terraces around Arsenal. In Islington and Hackney there are Georgian properties as well as ex-local authority flats; it's different street by street. In Shoreditch there are fewer houses, more modern apartments, warehouses and mansion blocks.
What trends are you seeing among buyers and sellers?
When I started 12 years ago Islington was full of suits, but now that the area is a tech hub it's more casual. Still, an Islington buyer tends to be a young professional (I hate that term!) who values convenience, transport, bars, restaurants and coffee shops. Those buyers will generally stay for between two and five years before they move to Highbury when they want a house. You used to get more space for your money in Highbury and could trade up from a prime two bedroom flat in Islington to a small Victorian house in Highbury, though that's not always true any more. Outstanding Ofsted-rated schools and parks make Highbury a great choice for young families.
Shoreditch is very different: it's driven by a vibrant young scene, and the City-based market looking for proximity to work. There are very few house sales there – it's almost entirely flats, When people start to look at houses, they generally move to Stoke Newington, which has quite a creative vibe in comparison to Highbury.
Predictions for 2022?
The reality is that demand is up significantly but supply is probably still down 40% from those high volume periods. There are just not enough houses to fulfil demand, so there's a lot of competition. We have people who sold a year ago to make themselves cash buyers in our lists of buyers waiting. It's frustrating for people who've lost out repeatedly, and for people trying to buy before another interest rate rise. This looks likely to continue, though we might feel a bit more of a pinch later in the year, when this inflated market might lose some heat.
Current best buys
This penthouse apartment in Wapping High Street E1 is all oak beams, wrought-iron columns and exposed brickwork, creating a spacious and contemporary feel. It has three bedrooms – one with stunning views of the Thames – and two bathrooms and is on the books at Winkworth Shoreditch 020 7749 7650 at £2.5m.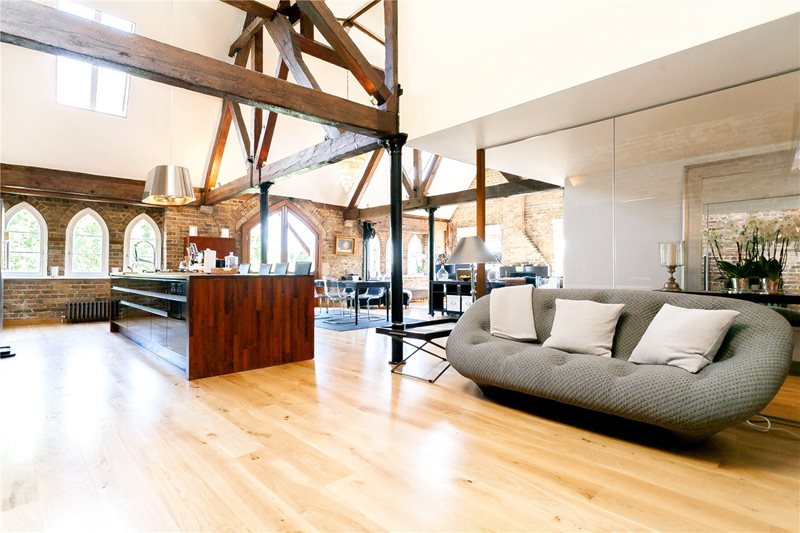 This impressive five bedroom house in Wilberforce Road N4 has lots of original charm and is well-located for the green spaces of Finsbury Park and Clissold Park. There's also scope for extending into the loft and basement; its on the market with Winkworth Highbury 020 7989 7000 at £1.925m.
This Grade II listed house in the Barnsbury Conservation Area's Offord Road N1 has been beautifully renovated and modernised to blend contemporary design with period features. It has a light-filled raised ground floor reception with access to a roof terrace, and a lower ground floor kitchen and garden, plus three bedrooms and two bathrooms. It's priced at £1.75m through Winkworth Islington 020 7354 2480.
This three bedroom in Hackney is located in a former bible factory that's now a double gated development. The split-level property has been meticulously renovated with impressive vaulted ceilings and a high specification throughout; it's for sale at £1m with Winkworth Hackney 020 8986 4216.