Village life in the city: how much does it cost for the best of both worlds?
Fresh air and green space, plus a manageable commute and London's amenities - it is entirely possible to reap the benefits of both countryside and city living. This is what you can expect to get for your money.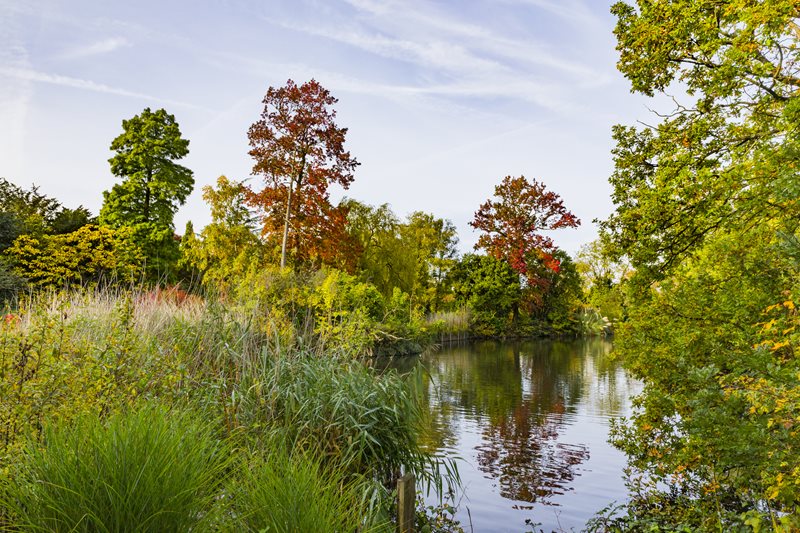 Before you begin your house search, no doubt one of the primary notions you will have decided upon will be whether you want a life in the countryside or in the city. For some it is simple - they may not need to consider it at all. They've lived in the countryside their whole life and will continue to do so, and vice versa. For those looking to swap one for the other, it won't be so easy. If you want fresh air and green open space, the chances are you'll have to move further out of the city, adding an hour or so to your daily commute. On the other hand, if you want to be able to get to work in under an hour and a bustling restaurant scene on your doorstep, you may need to sacrifice the big garden.
This adds to the multitude of other factors you have to consider when buying a property, such as what schools are in the area and access to transport links. However in recent months, buyer's priorities seem to have shifted slightly. Demand for countryside properties has increased with people less obliged to commit themselves to a full working week in the office. Moving out into the countryside affords more space to work from home, local walks that are far more enjoyable, and an increased likelihood of a garden.
It sounds pretty idyllic, but even so, it's not convenient for everyone to pack up and leave the city. And people still enjoy what a lifestyle in the capital offers - the bars, the culture, the buzz and convenience. So, what if you could have the best of both the countryside and the city? Areas like Dulwich, Blackheath and Ealing have green space aplenty, local shops and markets, and the lovely community-feel of the countryside, all the while being a few stops away from the central hub of London. In most cases you can expect to pay more for a village-life in the city – but you really will get the best of both. Here's what you can expect to get for your money.
No where epitomises the 'best of both' concept quite like Dulwich. Strolling along the leafy roads lined with local shops and garden fences, it's easy to forget you're just five miles from the City. It really does cater for everyone. Alex Vent, Branch Manager of Winkworth Dulwich says, "There is a sense that it is city and country combined. You feel as though you are in the heart of the country surrounded by large, green spaces and yet it is 12 minutes to London Bridge by train. Filled with modern independent shops, cafes, bars and boutiques as well as architecture that is steeped in history, Dulwich maintains its authentic village charm for families of all ages and singles alike."
Overall, sold prices in Dulwich over the last year were up 6% on the previous year with an average price of £782,590. Currently, a typical two-bed property with a garden sits between £600-700K, such as this contemporary home in East Dulwich. A four or five-bed home could be anywhere from £900K and upwards, like this gorgeous four-bed Victorian property which comes in at a cool £1M.
In comparison, the south London neighbourhoods closer to the capital's centre, Brixton and Peckham, have average house prices of £569,075 and £575,521. Similarly, south of Dulwich - and indeed London - to the countryside of Surrey, the average house price stands at around £550,447. It is worth remembering that you really do pay for convenience being closer to the city - and something like an annual Southern Rail season ticket comes in well over £2K.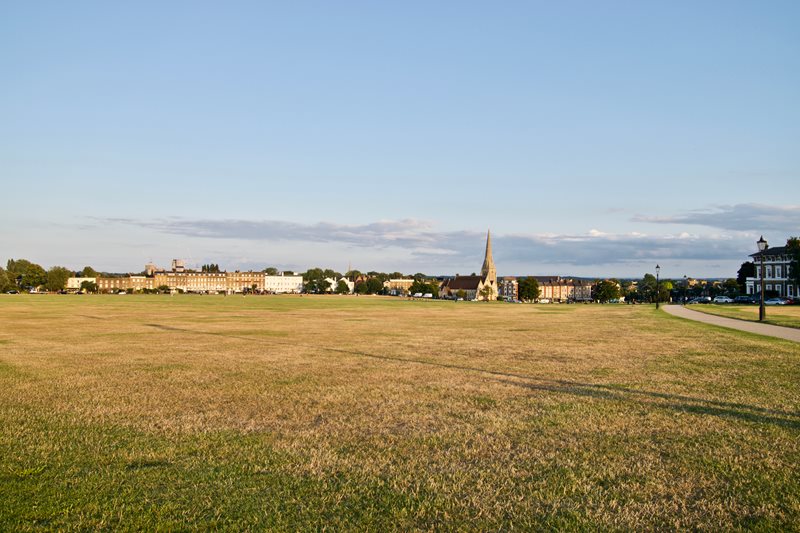 Like Dulwich, the SE3 postcode of Blackheath feels a million miles away from the hustle and bustle of the capital, and yet it's only 6.7 miles to Charing Cross. Straddling the borders of Greenwich and Lewisham, the area is home to independent shops and restaurants, excellent schools and the wild and rugged heath.
Steve Brown, Branch Manager of Winkworth Blackheath says, "The area retains a charming village feel yet you won't find a more convenient spot for Canary Wharf, the City and City Airport. It's a lovely place to unwind at the weekend and has something for everyone. We are blessed with lots of open spaces such as Greenwich Park, the heath, Manor House Gardens and Hilly Fields to name a few."
The neighbouring borough of Greenwich offers a similar lifestyle. Steve continues, "Greenwich is full of boutiques selling everything from artisan ice cream and children's clothes, to haberdashery, crafts and antiques. You'll find a farmers' market in the Blackheath car park every Sunday, and you can pick up handmade goods and delicious treats at Greenwich Market every weekend. If you prefer the convenience of having everything under one roof, you're just a 15-minute drive from the Westfield shopping centre in Stratford, and a 20-minute drive from Bluewater."
Two-bed flats with a garden start from around £425K. Steve says, "We sold two, two-bed properties this month on Humber Road, SE3 at £440,000 and £460,000 both within 24 hours of launch and to the first viewers through the door."
Starter homes typically begin at around £500K for a 60/70's build and £550K for period homes, while larger three and four bed homes will start from £750K. Luxury and very large homes could be anywhere in the region of £1.7-£4M.
Overall the average price last year was £657,999, so again, slightly more expensive than the southern countryside of Surrey and the more central London postcodes of Brixton and Peckham.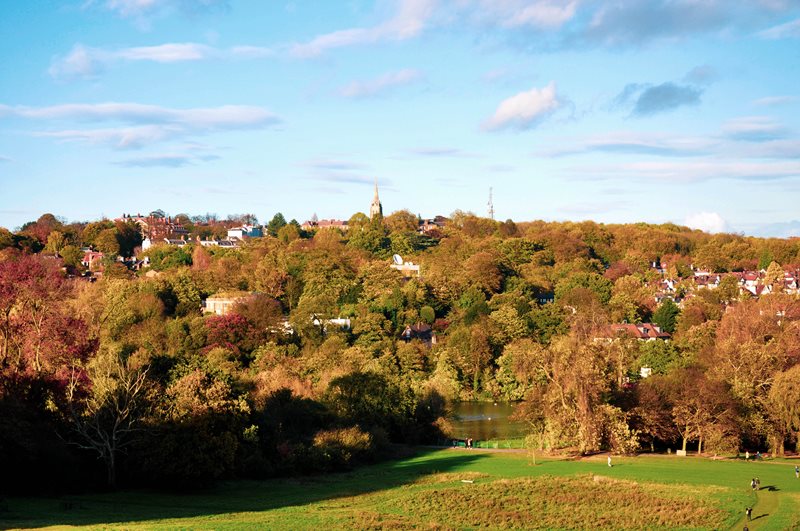 Highgate is a popular hangout for the rich and famous - Rod Stewart was born and raised here, George Michael lived here, and recent residents include Jamie Oliver, Kate Moss and Jude Law. But it's easy to see why. This leafy and picturesque village in north London is just 20 minutes from central London, while being surrounded by green spaces like Highgate Wood, Waterlow Park and the famous Hampstead Heath. As well as these beautiful spots for walking and cycling, it's home to a brilliant assortment of local businesses — from homely pubs to upmarket restaurants.
James Wilkinson of Winkworth Highgate says, "Highgate is within easy reach of the centre of town by tube and bus but, with Hampstead Heath, Queen's Woods and its necklace of smaller parks, the windswept hill on which it stands is really the first area of country and wildlife you meet outside London.
"The area has a distinct character which has historically attracted artists from Sting to Dickens, and from George Michael and Victoria Wood to TS Eliot, as well as a whole host of other people who now, as in previous centuries, make it a socially and culturally interesting place to be."
Last year, house prices in Highgate were up 22% from the previous year, with an average sold price of £1,219,423. The majority of sales came from flats, selling for an average price of £690,046, while terraced properties sold for an average of £1,335,602, and semi-detached properties fetching £1,804,690.
Closer into London, Stoke Newington had an overall average price of £680,373 over the last year, while properties in Chalk Farm had a budget-friendly overall average price of £438,000. Similarly, the countryside county north of London - Hertfordshire - had an overall average price of £451,050 over the last year.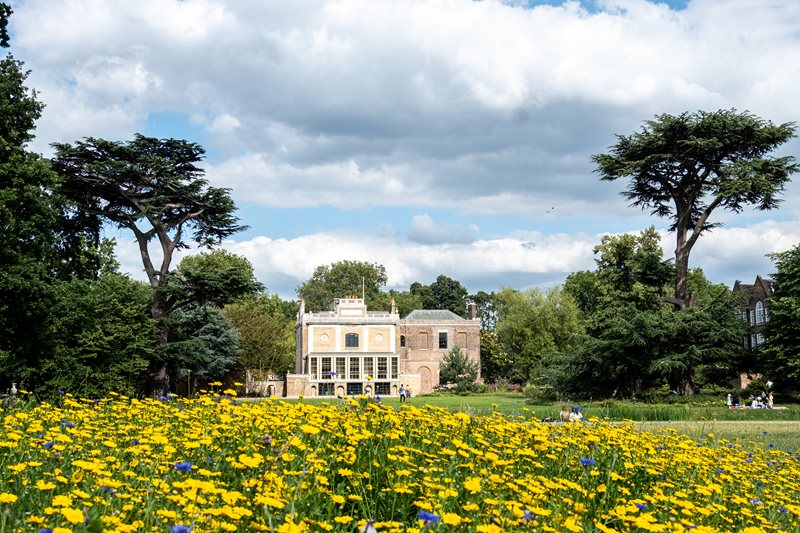 With its gravel driveways, tree-lined streets, double-fronted Edwardian properties and exceptional schools, Ealing has become known as the Queen of the Suburbs. Its popularity is rising according to Narendra Gandhi, Partner at Winkworth Ealing & Acton. He says, "Families are drawn to Ealing primarily because of its parks and open spaces, the excellent selection of both state and public schools in the locality and the prospect of Crossrail which will reduce the journey time into the City by nearly half. Ealing is known for its accessibility in and out of town, together with its array of bars and eateries."
"There is a variance in house prices in Ealing, given the housing stock on offer," Narendra explains, "A one or two bedroom garden flat would range between £420- £700K depending on square footage and garden size. A period two-bedroom house with a garden would cost £700K and upwards ranging to a double-fronted detached house with off street parking and a family sized garden measuring 75' and over would start at about £2.5M depending on the condition."
Overall, the average price of property in Ealing last year was £709,850. Further west and out of London, the average price in the countryside county of Middlesex had an overall average price of £763,549. In stark contrast - closer into London - properties in Kensington had an overall average price of £2,140,215 over the last year. In this case, the best of both comes in at a snip of city living, and a similar price to that of a countryside abode.
Are you looking to buy, sell, rent or let?