The property ladder: how to get on it, and how to move up it
Getting on the property ladder, and moving up it, is becoming more difficult to achieve, however it is still a reachable dream for many. Through hard work and following handy advice from our agents, we explore the different opportunities available, to start making your property journey a reality.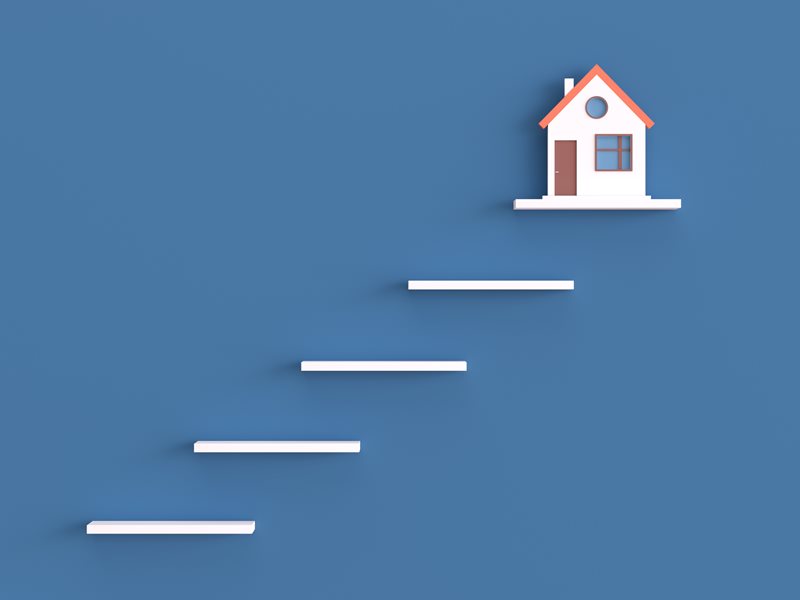 The idea of the property ladder is simple. You save up a modest deposit and buy your first home. You live in it for a few years and maybe make some improvements to it, then sell it at a profit. With that profit you take on a larger mortgage, perhaps together with a partner, and buy somewhere a bit bigger – then you do the same again – perhaps more than once – and eventually you find yourself living your best life in a big house with your mortgage paid off. That's the dream, anyway.
The reality is that it's becoming more and more difficult to achieve the dream. Homes in the UK are more expensive than ever, and despite the seemingly endless rise in property prices, there's still an element of unpredictability in the market. People are buying homes later; the average age of a first time buyer in the UK is 33, and in London it's 35. And with the 30 – or even 35 – year mortgage overtaking the more traditional 25 year version in popularity (or necessity), there's not that much room for manoeuvre, especially when you consider that the average first time buyer in 1960 was just 23. They would have been mortgage-free in time for their 50th birthday. If you want to be mortgage-free in a big house when you retire, you need to start early.
James Hathaway of Winkworth in Reading advises buyers to be brave and take the plunge. He says: "The main thing that has stuck with me over the years is to try and push yourself with regards to buying. At the time it always seems quite daunting, taking on a larger mortgage, but nowadays you are somewhat protected as the stress test that lenders insist on to ensure you can afford it protects you." Committing to a mortgage for the first time might seem like a terrifying step, but as James says, lenders are conservative and reluctant to let you borrow more than they believe you can comfortably repay. So borrowing as much as you can – even if it sounds alarming – can be a good strategy. Our recent blog looked into this process here.
In order to maximise your investment, it's a good idea to make improvements to your home, says James. "If you are happy to do this kind of work, look at properties that you can add value to. This can be a little as just reviving tired décor or whole refurbishments of kitchens and bathrooms and even adding extensions." When you sell at significantly more than the price you originally paid, the money becomes equity and serves as a large deposit on your next property, which in turn creates a smaller loan-to-value ratio and thereby enables lenders to feel secure in agreeing larger mortgages at smaller interest rates.
So, with a few clever purchases (generally buying houses that are run down in areas that are on the up) and a bit of luck you can raise your position on the ladder quite significantly. It can be a long game, and you'll need some courage, but the path is a well-trodden one and it continues to work.
Are you looking to buy, sell, rent or let?