The days of the best-kept secret agent are over
Maintaining a high profile online is key to growing a successful business. The digital marketplace is costly and fast-moving and many independent agents find it hard to compete with the big marketing budgets of corporate competitors. You may be offering the very best service and have unrivalled knowledge of your area of operation but if potential customers cannot find you, you will struggle to grow.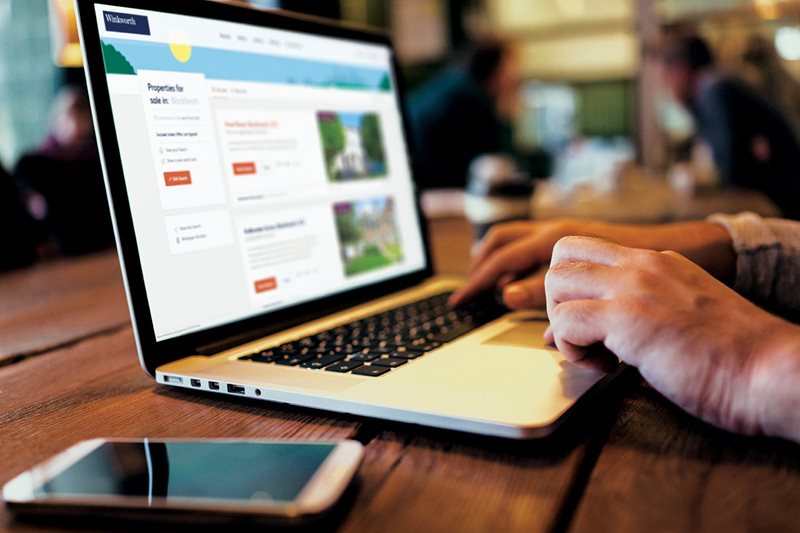 A strong online presence will build the brand image and increase market share. A website with high search visibility will regularly appear for searches relevant to your business. Customers will recognise the brand and are more likely to engage with the content and experience provided.
One of the major attractions for new franchisees joining Winkworth is the level of support provided to boost online presence. The franchise has a nationwide network of 100 offices and is proud to be a heritage brand, established in 1835, but with its focus on the future. The digital team at Winkworth will manage the website and the Search Engine Optimisation in-house for you on a daily basis – something that would be costly and time-consuming for an independent business owner.
Search rankings play an important role in the amount of clicks your listings receive. The top two positions alone receive an average of 60 per cent of all clicks. Customers normally associate higher rankings on the search results with industry leaders and they know that browsers such as Google will highlight sites that will provide them with the best answer to their search query. When you earn some of the higher ranking positions on the search results, it provides an excellent platform to promote business as an industry leader and someone consumers can trust. A well optimised website helps you to communicate better with the search engine algorithms. It will become clearer to the search engines which queries will be relevant for your site and will place you in the top positions for those enquiries.
This support will start from the moment you join Winkworth. All franchisees have to do is upload the properties on their books and the Winkworth team will take over.
The Winkworth website has a domain authority score above the industry average, which means any new page created within the website is likely to rank well within a fairly short space of time.
The in-house team also provides offices with support guides on topics such as how to optimise and manage their Google Business listings, manage Google reviews and how to create and optimise blog posts on their individual microsites, all of which contribute to their overall SEO performance.
To ensure that each of our office pages and website, as a whole, rank as high as possible for our primary search terms, the in-house team is constantly exploring new optimisation opportunities and techniques that will boost visibility and provide the edge in such a competitive market. Regular SEO audits are conducted across the site looking at keyword research and analysis, Google analytics review, backlink analysis, competitor analysis, site speed analysis, duplicate content analysis and general content analysis. Based on the results from the audit, the team will check every office page to implement any recommendations.
The digital support is just one of a number of services offered by the Winkworth in-house team, to give franchisees the time to focus on launching and growing a flourishing business.
Winkworth was ranked in the top 10 property brands chosen by customers in the YouGov BrandIndex 2020.
To find out how you can become part of the Winkworth network, contact Winkworth's New Franchising team today.
Interested in knowing more about owning a Winkworth office?