What are your plans for Boxing Day? If your agenda is no more ambitious than to watch films and eat leftovers, then you might not be aware that 26 December is in fact a significant day in the property calendar. Year on year, figures show increasing numbers of people searching for properties online and making enquiries before they've even tried the turkey soup.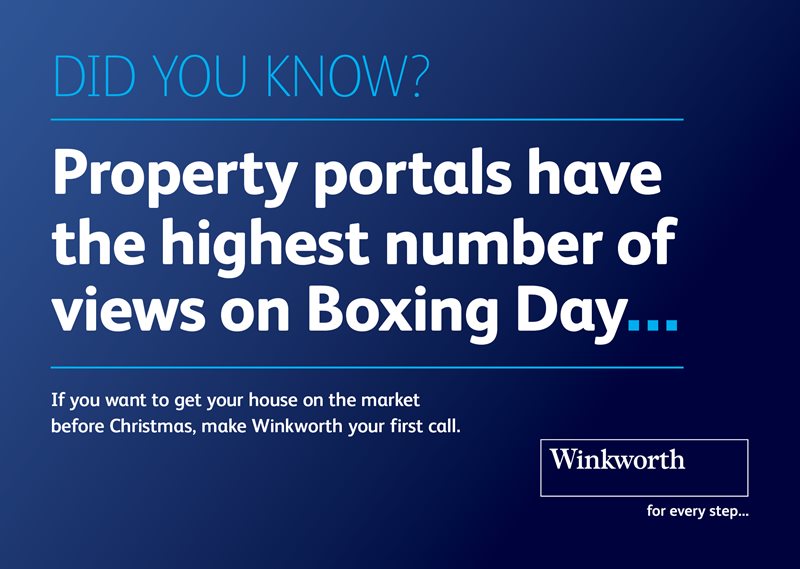 Whether it's due to a pledge not to spend another Christmas in the same house, or simply a smooth shift to the next item on the to-do list after the festivities have been dealt with, Boxing Day has become the day to buy property, albeit in pyjamas from the comfort of the sofa. A combination of free time and new Christmas gadgets only serve to fuel this enthusiasm, and last year there was unprecedentedly high website traffic on property portals over the festive period. In late December 2020, Zoopla announced an increase of more than 70% in visitors to its website compared to pre-Christmas, and Rightmove quoted an increase of 54% over the previous year. That amounts to about 30 million views on one day alone. But it's not exclusively 26 December – January is traditionally the busiest month for online property searches, so the entire post-Christmas period is significant for all movers.
All of this means, of course, that anyone looking to sell their home should make sure that it's ready to be found by these eager searchers. Preparation is key, and listing your property for sale before Christmas is vital – even if viewings can't be arranged until early January. Now is a busy time for agents, so sellers need to act swiftly in order to have photography, floorplans and details ready to go live on all the relevant portals – and the best way to do this is to choose an agent with a significant online presence as well as the local knowledge required to pitch your property correctly. Winkworth's network of more than 95 offices across the UK makes them a good bet, and booking an initial appraisal can be done instantly online.
One word of advice: don't put your decorations up until the photographs have been taken. In the unlikely event that your home doesn't sell quickly (demand is very high right now, but you never know), Christmas trees look awful in March, and there's no need to broadcast the fact that your home has been on the market for some time. Far better to get the agents round this week, and then decorate to your heart's content once the photographer's finished.
So, if you are thinking of moving in the new year, get a head start and contact your local Winkworth office to get your home on the market now - take advantage of all those boxing day browsers.
Are you looking to buy, sell, rent or let?